World news story
Minister Swire welcomes the new Lao Ambassador to the UK
Ambassador Sayakane Sisouvong meets Foreign and Commonwealth Office (FCO) Minister of State Hugo Swire for the first time.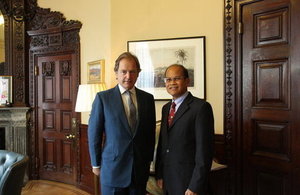 Bilateral relations between the United Kingdom and Laos were strengthened on Tuesday with an inaugural meeting between HE Ambassador Sayakane Sisouvong, Lao Ambassador to the United Kingdom and the FCO Minister of State Hugo Swire.
Ambassador Sayakane, who was officially appointed by President Choummaly Saysone as Lao Ambassador to the United Kingdom earlier this year, arrived in London in June in readiness for his assignment. Discussions during the meeting emphasised the UK's commitment to strengthening links with Laos and the countries' continuing development of co-operation in areas such as education, trade and improving the business environment, foreign policy, human rights, child protection and anti-money laundering.
After a diplomatic absence of nearly 30 years, the reopening of the Embassy of the Lao PDR in London will mark a new era in UK-Lao relations. This follows the re-opening of a British Embassy in Vientiane in April 2013.
The formal launch of the Embassy of Lao PDR, scheduled for later in the year, will complete full representation of all ten ASEAN countries in London. The UK is one of the few European countries represented in all ten ASEAN nations.
Further information
Follow the British Embassy Vientiane on Facebook
Published 7 August 2014