World news story
Minister of Investment attends BBG meeting
His Excellency Mr. Yehia Hamed, Egypt's Minister for Investment attended BBG meeting organized by UKTI section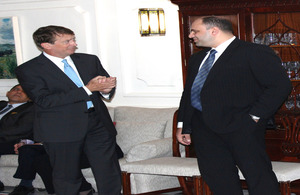 On Wednesday 12 June 2013 the UK Trade and Investment section (UKTI) of the British Embassy in Cairo held a reception for the British Business Group (BBG) in Egypt. The reception, attended by approximately 80 business people, was hosted by the Director of UKTI in Egypt, John Franck and was honoured by the presence of His Excellency Mr. Yehia Hamed, Egypt's Minister for Investment as guest speaker, as well as by Her Majesty's Ambassador to Egypt, James Watt and Mrs. Neveen El Shafie, Vice Chairman of the General Authority of Investment (GAFI).
The Minister for Investment gave a speech about the business and investment environment in Egypt, focusing on the issues faced by UK investors in Egypt, how they are being addressed and what further action is being planned in the short to medium term. Other topics covered in his talk and during the subsequent Q&A session included the prospects for Egypt's economy, the status of structural reforms, and the time frames and financing for planned major investment projects. The importance of Foreign Direct Investment to the recovery of Egypt was noted, and the statement that in order to attract new foreign investment existing investors needed to be looked after and His Excellency's commitment to ensure issues are resolved, were well received.
The British Business Group is an informal network of a) senior people working for British companies in Egypt, and b) British business people working for companies in Egypt. It meets for informal networking and to hear invited guest speakers approximately every 2 months. Drinks and canapés are served. There are 250 people on the mailing list, and attendance is usually between 45 and 60. BBG receptions are hosted every 2 months.
View the photos
Published 17 June 2013
Last updated 19 June 2013
+ show all updates
checked
photo replaced
photo replaced
First published.