News story
Minister meets Dumfries and Galloway dairy farmers
Scotland Office Minister meets farmers to discuss the dairy industry Code of Practice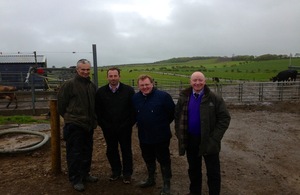 Scotland Office Minister David Mundell has praised dairy farmers in the South West of Scotland for the constructive way in which they are trying to move the industry forward following a winter which caused significant disruption to many farmers in the area.
As part of a roundtable event in Port William, near Stranraer, hosted by Rory Christie, Vice-Chairman of the NFUS' milk committee, the Minister heard how the industry code of practice, backed by the UK Government, had started to deliver benefits for local milk producers as its first annual review approaches.
Mr Mundell said:
"The conditions experienced over the past few months have been extremely tough for rural Scotland and the agriculture industry as a whole. This has made the resilience shown by farmers in the South West of Scotland and the constructive discussions that took place all the more encouraging.
"I was pleased to hear that the positive effects of the code of practice - which the majority of dairy processors have now signed up to - are now being realised by milk producers in the South West of Scotland. I realise there are still issues to resolve and look forward to seeing the outcomes of the review that the NFUS is involved in, as a further step towards identifying the action required to secure the industry's long term future."
The Minister also listened to farmers' views on how to encourage new blood into the industry and address the need for modern farms to be efficient and equipped to compete on a global stage. He expressed his desire for agriculture to be seen as a viable career option for young people and promised to look into how the UK Government could help to make it easier for farmers to recruit and develop new workers.
Mr Mundell added:
"Agriculture provides a variety of exciting skilled career opportunities and as the farmers I met have stressed - addressing the future workforce and skills across the sector is crucial if this vital industry in Scotland is going to thrive in generations to come.
"For the UK Government it is important that we ensure that agriculture is seen as an attractive career opportunity for young people and that people looking to join the industry have the skills, knowledge, and support that they need to flourish".
Published 27 May 2013