World news story
Minister Mark Simmonds visits Cameroon
Foreign Office Minister for Africa Mark Simmonds visited Cameroon on 21-22 May as a follow-up on the UK-Cameroon Trade Mission in London earlier in May 2014.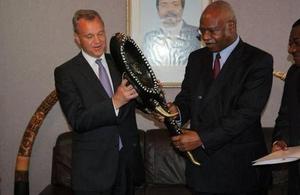 During his meetings with the Prime Minister, Philemon Yang and key government members, Mr Simmonds underlined the importance of existing business relationships in trying to attract more UK investment to Cameroon.
Immediately following Mr Simmonds' visit the deal was signed for British Company Actis Energy to complete the purchase of the AES stake in Cameroon's sole electricity distributor. This $220m deal makes ACTIS one of the largest investors in Cameroon. On 23 May ACTIS Chief Executive David Grylls signed the contract with Cameroonian Ministers during an official signing ceremony and press conference.
Besides trade and investment UK's minister also discussed border security issues with Cameroon's government members especially the CAR crisis for which Cameroon is host to most of the refugees.
Published 29 May 2014