World news story
Minister Lidington visit to Macedonia
UK Minister for Europe David Lidington pays visit to Macedonia for talks with political leaders.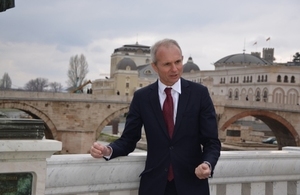 The Minister for Europe, David Lidington, visited Skopje from 16-17 March for talks with political leaders, including the presidents of VMRO-DPMNE and SDSM, Nikola Gruevski and Zoran Zaev and the leaders of the ethnic Albanian parties.
The Minister urged all parties to fully implement the Przino Agreement and ensure the conditions are right to hold credible elections on 5 June. The visit included a meeting with about sixty civil society representatives from across the political spectrum to gather views on the political situation and outline the UK government position.
In meetings with Deputy Prime Minister for European Affairs Fatmir Besimi and Foreign Minister Nikola Poposki the Minister discussed Macedonia's Euro-Atlantic future and the importance of implementing the Urgent Reform Priorities as put forward by the European Commission in July last year.
The Minister also took the opportunity to meet representatives of international agencies to discuss the migrant crisis and to meet Macedonian ministers for Interior Oliver Spasovski and Health Minister Nikola Todorov leading on the response. The Minister outlined that the UK humanitarian response was the largest ever to any one crisis with £1.1bn of aid to Syria and agreement to increase this to £2.3bn at a conference organised in London in February.
Connect with us on Facebook and join our conversations @ukinmacedonia.
Connect with the British Ambassador on Facebook and @BritAmbCGarrett
Read our blog UK in Macedonia
Published 22 March 2016