World news story
Minister Hugh Robertson Visit to Algeria
British Foreign and Commonwealth Office Minister for North Africa and the Middle East, Mr Hugh Robertson visited Algeria from 23 to 24 April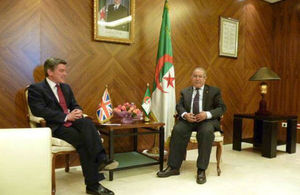 Hugh Robertson MP, British Foreign and Commonwealth Office Minister for North Africa and the Middle East paid a visit to Algeria on Wednesday 23 and Thursday 24 April.
Mr Robertson held senior level meetings with the Algerian Government to discuss bilateral and international issues. He gave his personal condolences following the deaths of 11 Algerian soldiers in the cowardly terrorist attack near Tizi Ouzou on Saturday. The UK stands side by side with Algeria in the fight against terrorism.
Mr Robertson's visit coincided with the anniversary of William Shakespeare's birth 23 April, UN World English Day. During his visit to Algiers in January, Mr Robertson signed a five year agreement to allow 500 Algerian PhD students of English to study at British Universities. This week he is strengthening the British commitment to promoting the English language in Algeria even further by meeting the newly trained teachers who will work in the British Council English Teaching Centre when it opens in Algiers in September.
Speaking ahead of the visit, His Excellency British Ambassador to Algeria Mr Martyn Roper said:
"Hugh Robertson's visit will continue to build the strong and enduring partnership between the UK and Algeria. On the occasion of World English Day, I am delighted that we can celebrate further progress towards Prime Minister David Cameron's promise to re-open the British Council English Language Teaching Centre, which will open in September in Algiers."
Published 24 April 2014