World news story
Minister for Syrian Refugees visits Lebanon
Minister visits refugee settlement and the UNHCR centre in Beirut during 2 day visit.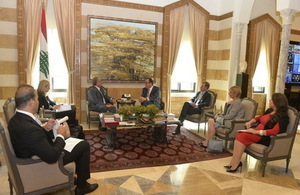 Richard Harrington, the Minister for Syrian Refugees, has spent 2 days in Lebanon, in which he visited a refugee settlement and the UN High Commissioner for Refugees (UNHCR) centre in Beirut and met with 2 Lebanese ministers.
In his ministerial capacity to co-ordinate the resettlement of up to 20,000 of the most vulnerable Syrian refugees to the UK, Mr Harrington also met refugees departing on a chartered flight from Beirut airport to the UK.
The refugees will now be provided with housing, healthcare, English language lessons, education and access to appropriate support services tailored to their individual needs.
During his visit, Mr Harrington also met Interior Minister Nohad Machnouq, Foreign Minister Gebran Bassil and Lebanese parliamentarians.
Mr Harrington thanked the Lebanese authorities for hosting such vast numbers of refugees, and his discussions focused on the UK's continued support to Lebanon, which this year will total more than £114 million.
During a visit to the UNHCR centre in Bir Hassan, the minister was also able to see first-hand how UK aid is supporting the most vulnerable in Lebanon.
Richard Harrington said:
The UK has been at the forefront of the international response to the humanitarian crisis in Syria and we continue to be one of the largest bilateral donors to Lebanon.

During the visit I was able to meet with some of the vulnerable refugees in Lebanon, visit the UNHCR centre, and meet with key ministers from the Lebanese government in order to discuss the UK's continued support for Lebanon and the region.

I was also able to update the ministers on the progress we are making in resettling refugees via our Vulnerable Persons Resettlement (VPR) scheme.

In September last year, the Prime Minister announced that the VPR scheme would be expanded in order to resettle 20,000 vulnerable Syrians. I am delighted that we were able to resettle more than 1,000 of these refugees by last Christmas, but we are by no means complacent and we know that there is a long way to go.
Published 24 May 2016