News story
Milestone reached in campaign for global arms regulation
Michael Moore emphasises the UK Government's "unwavering commitment" to ensure a global Arms Trade Treaty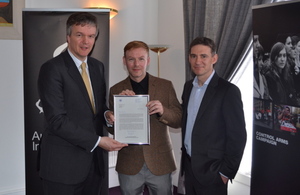 The Secretary of State for Scotland Michael Moore has highlighted the role played by Scottish campaigners as the United Kingdom becomes one of the first countries to sign an internationally binding agreement to regulate the trade of conventional weapons.
At a ceremony at the UN headquarters today, Foreign Office Minister Alistair Burt signed the Arms Trade Treaty on behalf of the UK Government. This Treaty will regulate the international trade in conventional arms, from small arms to battle tanks, combat aircraft, and warships.
The UK Government has led efforts to regulate the international trade in weapons since co-authoring the first UN Resolution in 2006 and this landmark treaty signed today will take effect after it is ratified by 50 countries.
Last month in Edinburgh the Secretary of State hosted an event with Amnesty to mark the efforts of campaigners in Scotland and the vital role they played in ensuring the successful negotiation of the Arms Trade Treaty. This included presenting campaigner David Grimason with a letter of thanks from the UK Government to recognise his contribution towards the campaign over the past decade.
The Secretary of State said:
"The UK Government made an unwavering commitment to establish a Treaty that is strong enough to make a real difference. By becoming one of the first governments to sign this historic treaty we have made a major statement of intent of our desire to protect human rights, combat terrorism and prevent arms from reaching some of the world's most vulnerable regions
"It has been a long process, and a collective endeavour. Without the efforts of Amnesty and the Control Arms Campaign and dedicated, determined individuals in Scotland such as David Grimason we would have never reached this point today and I thank them all for their efforts.
"This is by no means the end of the process and the work continues for the UK Government, civil society and individuals to work together to ensure ratification and global implementation of this important Treaty."
Published 3 June 2013