News story
Mexican President visits Aberdeen
Scottish Secretary champions Scottish Oil & Gas sector with Mexican President.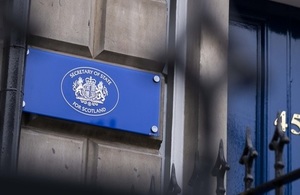 The Secretary of State for Scotland Alistair Carmichael was in Aberdeen today, where he welcomed the President of Mexico President Enrique Peña Nieto on the Scottish leg of his UK visit and signed a number of memorandums of understanding (MoUs) on energy.
These are designed to promote working between the two countries and share the expertise of the sector, ensuring a productive relationship in future.
Mexico is poised for major reform in its energy sector, forecasting $50 billion of investment ahead of 2018.
Mr Carmichael said:
Scotland's oil and gas industry is seen as a world-leader in terms of expertise, skills and resilience across the world. The memorandums with Mexico I signed in Aberdeen today are a further helpful step for the industry as it looks to deliver services in overseas markets.

Mexico is a key partner in this and the recognition of our industry and academic skills are important for both countries as they work together for mutual benefit. The President was keenly aware of these opportunities during his visit to Aberdeen today.
The MoUs signed in Aberdeen today were on:
Energy Cooperation
Broad agreement covers the whole energy sector and includes setting up of a Steering Committee to deliver targeted information sharing in order to support the sound future development of the energy sector in both Mexico and the UK – ensuring that the conditions are right for commercial wins and environmental protection in both countries in the long term.
Climate Change
Refreshes the 2011 MoU between the Department of Energy and Climate Change in the UK and the Ministry of Environment and Natural Resources in Mexico to work together on sustainable and low-carbon development. It reaffirms the progressive stance of both countries and our shared aim to reach an ambitious, equitable, comprehensive and legally binding global agreement at the COP21 climate negotiations in Paris in December.
Two further MoUs were also signed today:
UK Export Finance and the Mexican State Oil company Pemex
Providing for a line of credit of up to one billion dollars and strengthens the opportunity for British businesses operating in Mexico. Both UKEF and UK Trade & Investment (UKTI) will work with Pemex to identify existing suppliers who may be able to benefit in terms of future business and to encourage new suppliers to bid for business with Pemex.
Aberdeen University and Pemex
Helping ensure the right skills and expertise will be there to turn Mexico's reforms into reality. Cooperation will include human capital development, capacity building and human capital development.
Published 5 March 2015