News story
Memorial wood takes shape at Ballykinler Training Centre
One hundred years have passed since the outbreak of the First World War, and the DIO is working with the Woodland Trust to mark the anniversary.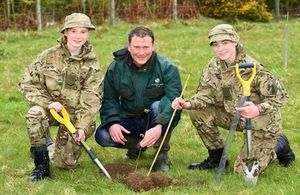 The trust's 4 year centenary woods project will see millions of trees planted throughout the UK in memory of the millions of lives lost and affected. Four centenary woods, one each in Northern Ireland, England, Scotland and Wales, will be at the core. The Scotland Centenary Wood is also on the MOD estate, at Dreghorn near Edinburgh.
Northern Ireland's gem, named Brackfield Wood, sits by the banks of the beautiful River Faughan, not far from the city of Derry/Londonderry. Still in its infancy, this wood will be home to 40,000 native saplings, with swathes of glorious wildflowers including the iconic poppy.
The conservation charity hopes that schools, groups and landowners throughout the country will be inspired to play a part by planting their own memorial wood. Defence Infrastructure Organisation (DIO), with a helping hand from the 2nd Northern Ireland Battalion Army Cadet Force is doing just that at Ballykinler Training Centre.
Gregor Fulton, Woodland Trust's operations manager in Northern Ireland, said:
In addition to the 4 flagship woods across the UK, we're encouraging groups and landowners to create their own memorial wood. And we're delighted to have teamed up with the DIO and the Army Cadet Force to plant this special Centenary Grove here at Ballykinler Training Centre.
The County Down training centre has it all, with a setting and history as colourful as its wild inhabitants. The majestic Mourne Mountains provide an impressive backdrop, and the site itself is a safe haven for a variety of bats, red squirrels, seals and barn owls. A series of First World War practice trenches, where the 36th (Ulster) Division trained, has also been uncovered.
Tony Canniford, DIO Estate Manager at Ballykinler, said:
Around 60 cadets from the four companies of the 2nd Battalion rolled their sleeves up to plant 500 native saplings. The trees will be a flourishing, lasting and respectful tribute to the people of Ireland who lost lives and loved ones during the war.

Strategically, this one acre area adjoins existing woodland and, in time to come, the new planting will provide an extended habitat for Ballykinler's precious wildlife.

This grove will be unique. The trees are planted to leave an open area looking out towards the Mournes in the shape of a shamrock, which is associated with the Irish regiments of past and present, in this centenary year of the Battle of the Somme.
Find out more at: woodlandtrust.org.uk/faughan
Published 23 May 2016