World news story
Members of UK Parliament visit the Holy See
Visit of The All Party Parliamentary Group on the Holy See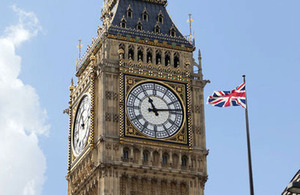 The All Party Parliamentary Group on the Holy See will pay its annual visit to the Holy See on 22-24 October 2013.
The Group, which will be led by the Co-Chair Sir Edward Leigh MP, will be attending the General Audience on 23 October, and holding meetings at the Secretariat of State, Pontifical Council for Justice and Peace, Congregation for the Doctrine of the Faith, Caritas Internationalis and the Sant'Egidio Community. On Thursday 24 October, Sir Edward Leigh will reflect on the visit with Vatican Radio's Philippa Hitchen. Canon Pat Browne, the Catholic Chaplain to the UK Parliament, will accompany the Group.
The All Party Parliamentary Group on the Holy See is made up of representatives of both House of Parliament and all the principal political parties. The stated role of the Group is "to monitor the relationship between the UK and the Holy See and call representatives of faith communities and the foreign/diplomatic service to brief the group on issues pertaining to the Vatican and the work of the Catholic Church".
Published 21 October 2013