World news story
Members of the Royal College of Defence Studies visited Chile
The members had the opportunity to analyse important strategic areas such as security, stability and prosperity of the region.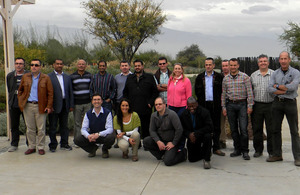 Fifteen members of the Royal College of Defence Studies (RCDS) visited Chile in mid-May as part of their study tour to Latin America. The visitors came from the UK, UAE, Saudi Arabia, Jordan, Bosnia and Herzegovina, Lebanon, India, Netherlands, Uganda, Turkey and Estonia. During their visit, they had the opportunity to examine, at first hand and from a strategic perspective, the current position and future prospects for the preservation and enhancement of security, stability and prosperity of the region in general and in particular the countries visited.
The first day of their visit to Chile the group received a political overview from the political scientist Mr. Raul Sohr, a briefing on Education from student leader Diego Vela and a brief on the Mapuche situation from journalist Pedro Cayuqueo. The following two days were based at ANEPE (National Academy of Strategic and Political Studies) where, after opening words from Defence Minister Oscar Izurieta, they received briefings from various government departments including the ministries of Foreign Affairs, Environment, Energy, the Ministry of Defence and the Treasury. They also visited Colina 1 prison and Alfalfal Energy project. The group finished their week with a visit to Los Bronces copper mine.
The Overseas Study Tours of the RCDS are the culmination of the Course's examination of contemporary international issues, which is achieved principally through lectures and seminar discussions on various regions and countries of the world. RCDS membership consists of military officers, civil servants, diplomats, police officers and representatives from the private sector from some 45 nations and cultures. Most members are of colonel/brigadier or equivalent level and selected to attend the course on the basis of their potential to progress to high office. For individual RCDS members, the Overseas Study Tours are the highlight of the course and provide them with an unequalled and very privileged opportunity to examine in detail a particular region of the world.
For more information about the activities of the British Embassy in Santiago, follow us on:
Published 29 May 2013