World news story
Media self-regulation promoted in Macedonia
British Embassy supports presentation of a self-regulation model for media organisation in Macedonia.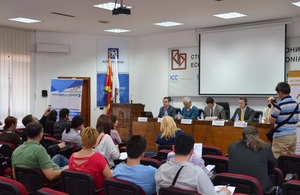 On 30 April, a possible framework for media self-regulation in Macedonia was presented to the public during a final conference on the topic. The model is the result of a British Embassy supported project to assist the media community in Macedonia in defining future models for media organisation.
British Ambassador Christopher Yvon was among the speakers at the event and said:
Press freedom is a cornerstone of democracy and is vital to achieve transparency and accountability in public life. Self-regulation can be a successful model for the work of the press and, if achieved responsibly, can increase public confidence in the media's capability to perform its role in society. I would like to commend the Association of Journalists and its President for their support to the development of self-regulation.
The project is helping to raise awareness of the issue and to create a supportive environment for the establishment of a Macedonian Press Council. The Council is envisaged to be a tripartite self-regulation mechanism consisting of journalists and editors, media owners and the public, for safeguarding ethical and professional media standards. The project lasted from November 2012 to April 2013, led by the Association of Journalists of Macedonia and the Macedonian Institute for Media.
Published 2 May 2013