World news story
Media matters debated in Macedonia
Labour rights of journalists and media workers in Macedonia in focus within a project supported by the British Embassy.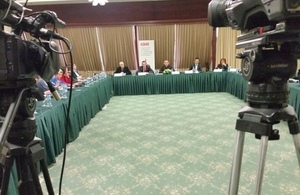 On 14 December in Skopje we supported an international conference focused on journalism, media and unionism. Participants had the opportunity to discuss the domestic situation on media trade union work, labour rights of journalists and media workers. Speakers at the conference were representatives of the region and the President of the European Federation of Journalists Mogens Blicher Bjerregard. The diverse participation allowed opportunity to the participants to discuss challenges on media professionalism in various contexts. Macedonian Labour Minister Frosina Tasheva-Remenski was among the speakers at the conference and reflected broadly on unionism in Macedonia.
Speaking at the official opening at the conference our ambassador Charles Garrett said:
Better working environments mean happier employees. Happier employees deliver more, both in quantity and in quality. And better quality in media means better information and greater diversity of opinions. And that, of course, is key to strong democracy. If the public have confidence in the media and the information they are getting, they have a strong base to make informed democratic choices.
Having a strong network of well educated media advocates and activists will strengthen the Media Trade Union. It will raise its visibility among media workers and journalists. This should strengthen public debate on professional and responsible journalism, as well as help in future drafting of media legislation and collective agreements on labour rights.
The project is implemented by the Independent Media Trade Union in Macedonia in the period of May 2015-March 2016. Its purpose is to strengthen the capacity of the Media Trade Union to protect media workers rights by creating a network of media advocates able to lobby for media working conditions and professional rights as a prerequisite for free and independent media.
British Embassy Skopje runs a range of programme assistance in Macedonia providing support in range of reform areas with judiciary, human rights, democracy, media and civil society. To find out more about our programme assistance click here.
Connect with us on Facebook or follow us @ukinmacedonia
Connect with the British Ambassador on Facebook or @BritAmbCGarrett
Read our blog UK in Macedonia
Published 15 December 2015