News story
Media Advisory: Contempt of Court Act
Editors and publishers are reminded of their responsibilities under the Act and should take legal advice to ensure they fully comply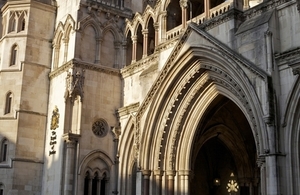 Following the charging of Gokay Sogucakli, Nathan Mason, Ozcan Eren and Eren Hayser on the 13th of December 2015 with alleged offences arising out of an incident in and around Bracknell Close, Wood Green, on the 11th of December 2015, the Attorney General reminds editors and publishers that for the purposes of the Contempt of Court Act 1981 (the Act) proceedings are active and the strict liability rule under the Act therefore applies.
In particular, the Attorney General wishes to draw attention to the risks in publishing any material that asserts or assumes, expressly or implicitly, the guilt of any of those arrested or anybody allegedly in the company of the defendants on the morning in question.
Editors and publishers are reminded of their responsibilities under the Act and should take legal advice to ensure they are in a position to fully comply with the obligations imposed by the Act.
Published 16 December 2015