World news story
Mark the Remembrance Sunday in Singapore on 10 November at Kranji War Memorial
We will be commemorating those who fought for and died in the pursuit of peace for us. Join the service and buy poppies to show support.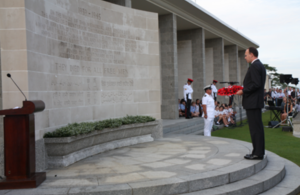 Organised by the British High Commission Singapore in partnership with the Singapore Armed Forces Veterans' League, the event is held on the closest Sunday to the end of World War I which is 11 November 1918.
The 30-minute ceremony will be attended by members of the diplomatic corps, military and representatives of Singapore's major religions.
Remembrance Sunday event will be taking place on 10 November 2013 at the Kranji War Cemetery at 07.30 am with an inter-religious service. To be seated by 07:00. Entry is free of charge.
You can buy the poppy pins at the following places:
British High Commission Guardhouse, British Council, The Tanglin Club, Tanglin Trust School, Dover Court School, British Association at Tanglin Shopping Centre, St Andrew's Society, The British Club, Changi Museum, Singapore Cricket Club, COLBAR, Tatty Marsh at Tanglin Mall, Tadcaster Hospitality.
The poppy pins will also be available at the Kranji War Cemetery on 10 November on Remembrance Sunday.
Published 6 November 2013