World news story
Manchester University alumni reception in Chile
Reception was held at the British residence to mark the official launch of the Manchester University alumni society in Chile.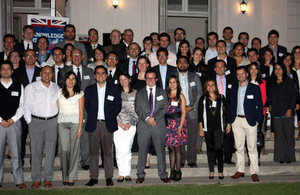 British Ambassador to Chile, Mrs. Fiona Clouder, held a reception to mark the official launch of the Manchester University alumni society in Chile. Fifty Manchester graduates joined the event in the Ambassador's residence from many different academic and professional disciplines. Natalia Aranguiz, gave an overview presentation about the society, its aims and its plans. On the occasion, Ambassador Clouder gave the following speech:
Good evening. Welcome to all of you to the Residence this evening. Thanks to all of you for coming. It's great to see so many alumni from the University of Manchester here tonight. Whilst my original university allegiances lie further South, with UCL, I used to work very closely with a former Vice-Chancellor of the University of Manchester, who is also a great friend. He helped transform the University at the end of the 1990s, during a very difficult time, of government cuts and challenges for the university system, and helped build it into the great institution it is today. He also got me involved with international science, so I feel some Manchester influence!

To start with, I have got a question for you all: what do prize winning architect Norman Foster, the world's first computer, world leading and Nobel prize winning research on graphene and the Presidents of Iceland, Ireland, and Israel have in common? It is because they all either studied at, or were invented in, Manchester. The University has a great tradition of teaching, and today is developing the future professionals and leaders that we need to face the challenges and opportunities ahead. It also has a great tradition of research – including cutting edge research in science and engineering that is pushing the boundaries of future technology.

So it is with great pleasure that I am hosting this reception for your newly formed alumni group. It is great to see that so many of you want the spirit of Manchester to be alive in Chile. I congratulate your initiative in setting up the alumni group. Hopefully you will be able to support and help each other, and keep in touch with the University that played an important part in your education. At the Embassy, we are keen for ex-students to keep up their links with the UK, and an alumni group is a great way to do that. But you can also all act as ambassadors for the UK more widely – and so please do share your experiences of studying there with future generations who might want to follow in your footsteps.

We believe that the UK has a lot to offer Chile in education. We are already the number one destination for Becas Chile scholars. We have 17 of the world's top 100 universities, including Manchester. With only 1% of the world's population, we account for 16% of the most-cited scientific papers. We are thrilled that so many Chilean students want to study in the UK, and the doors are always open for further students. We are looking for deeper partnership with Chile in science and innovation too, including through the new Newton Fund, which will enable further scientific and innovation exchange between our two countries. So to conclude, thank you very much for attending tonight, best of luck for your alumni society and please all act as Ambassadors for the UK!
Further information
For more information about this event, contact Karl Zammit-Maempel, Head of Economic Affairs and Climate Change, British Embassy, Santiago.
For more information about the activities of the British Embassy in Santiago, follow us on:
Published 8 April 2014