Press release
Man handed jail term over illegal waste operation
Pollution incident leads to discovery of illegal handling and export of hazardous waste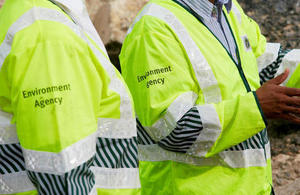 A Rochdale man has been handed a six-month suspended jail term for his involvement in an illegal waste operation in Halifax.
Mohammed Akram, 57, of Edenfield Road, Rochdale, was sentenced at Bradford Crown Court on Tuesday 1 December after pleading guilty to three environmental offences relating to unlawful handling and export of hazardous waste.
Chris Badger, prosecuting for the Environment Agency, told the court that illegal activities were discovered when the Environment Agency followed up complaints of dead fish in a pond fed by the River Ryburn, at Triangle, near Halifax, in September 2009.
A discharge of foam in the watercourse was traced back to Thorpe Garage, in Triangle, where more than a hundred, 1,000-litre plastic containers were found stored. Some containers had holes drilled in them, and liquids were seen leaking onto the ground before entering the water.
There were also a large number of grab bags labelled "toxic", "harmful to the aquatic environment" and "soluble lead compound". Some of these were seen to be spilling their white powder and granular contents onto the ground.
Subsequent analysis of effluent discharged to the Ryburn revealed a cocktail of various organic and inorganic compounds. This effluent was 25 times more polluting than raw sewage when it entered the water, but was diluted due to the fast current.
Operating on the site was a company called Crystal Recycling Ltd, a waste business run by Mohammed Akram and Asif Ali. Despite the site not having an environmental permit or planning permission for a waste facility, the firm received hazardous waste for export.
Gail Gray, the Environment Agency officer in charge of the investigation, said:
This case demonstrates how important it is that waste operators comply with environmental permitting laws and take all the necessary steps to protect the environment.
Hazardous waste can have a terrible impact on wildlife and local communities if it is not stored and handled properly.
As a regulator of the waste industry, the Environment Agency will take tough action on those who flout the rules or cause environmental pollution. Anyone who spots any pollution should report the matter to our incident hotline on 0800 807060.
Akram was sentenced to six months in custody on each offence, to run concurrently, suspended for two years. He was disqualified from being a director for five years and ordered to pay £20,000 in legal costs.
At the same hearing, Asif Ali, 38, of Edenfield Road, Rochdale, was ordered to pay £40,000 costs for his involvement in the illegal operation. Ali had previously admitted five charges and in September 2013 he was handed a 15-month jail term, suspended for two years, and ordered to carry out 240 hours of unpaid work. Ali was also disqualified from working as a company director for five years.
Published 3 December 2015