World news story
Making Education Reforms Happen at the OECD
The OECD launches its first Education Policy Outlook in London.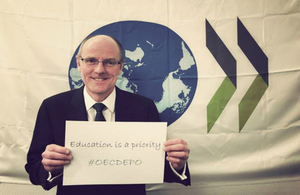 The OECD's inaugural Education Policy Outlook is the first ever attempt to chart the huge range of education policy reforms that governments across the OECD are implementing. At its London launch, UK Minister for State for School Reform, Mr. Nick Gibb MP, underlined how important it was to learn from the world when designing education policy: to look at our national systems through an international prism.
The report brings home how many countries are facing the same broad challenges. The publication shows, for example, that disadvantaged pupils still achieve lower educational outcomes on average than their more fortunate peers. How to achieve equity in education systems is near universal question. Countries are also grappling with how to ensure that students leave education with the tools to succeed in the labour market. While unemployment levels remain high, we hear too many employers claiming that recent graduates do not have the basic skills required for jobs in their companies.
The Outlook also indicates, however, that good policy can generate real change. Evidence-based initiatives can bring about the ideal scenario: a quality education system in which socioeconomic disadvantages are not a barrier to success. It is for the OECD to contribute to this evidence base. The EPO builds on and adds to established work programmes such as PISA and TALIS and further empowers policy makers with the knowledge to design life-changing reform.
In the attached video, the UK Delegation to the OECD's Social Affairs Counsellor, Duncan Richardson, explains why this report really matters.
Published 26 January 2015