Press release
Make our Scottish Gin a double
Scottish Secretary in bid to double the country's gin exports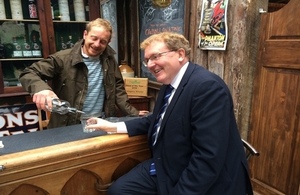 The UK Government wants to more than double gin exports in a move that will create jobs and bring investment to Scotland, Scottish Secretary David Mundell said today.
The UK is already the biggest gin exporter in the world- and 70 per cent of it is made in Scotland. Last year, the equivalent of 1.6 billion gin and tonics were sold, worth £1.76 billion to the economy.
Now the Government want to boost those figures even further to bring them into line with the £4 billion earned by Scotch whisky exports.
Visiting the Inshriach Distillery, the home of Crossbill Gin in Aviemore, Mr Mundell said he would work with departments like the Foreign Office, The Department for the Environment, Food and Rural Affairs and UK Trade and Investment to maximise gin promotion at home and abroad.
The Scottish Secretary will also use Dover House, the Scotland Office's London HQ and his own overseas visits to personally promote the thriving Scottish gin sector.
Mr Mundell also highlighted the action the UK Government is taking to support the gin industry:
cutting duty on gin by 2 per cent - saving the industry £100 million in new tax liabilities

opening up more than 100 new international food and drink markets in the last year - helping the gin industry export to a record 139 countries;

serving UK gin at key overseas UK embassies where we are targeting increased exports

appointing the UK's first ever food counsellor in China to open up more food and drink exports;

working with industry to develop a 25 year plan to boost growth in the UK food and drink sector;

providing record amounts of data to support small businesses in the gin sector.
Mr Mundell said:
Everyone knows Scotland is the world leader in whisky. People are usually more surprised to learn that we are also a world leader in gin.
The Scottish gin sector is going from strength to strength and the excellence of the product is clear to see here at the Inshriach Distillery in the Cairngorms. The UK Government wants to help gin match the superb exporting strength of Scotch whisky and I will work with Cabinet colleagues at home and UK embassies abroad to make sure we are doing all we can to help quality Scottish gin reach bars and homes throughout the world.
Gin is the latest in a long list of export successes for the UK—food and drink exports were worth nearly £19 billion last year and food and drink remains the country's biggest manufacturing sector, with the food chain contributing £103 billion a year to our economy and employing one in eight people.
The US, Spain, Germany and Canada enjoyed more than 1 billion British gin and tonics last year and the UK Government is targeting growing markets like India, Brazil and the Far East. In Beijing, the UK's first ever food counsellor, Karen Morgan, is working to open new Chinese markets and opportunities.
Published 26 August 2015