World news story
Make agric game changer of Africa — Paul Boateng
A Member of the British Upper Chamber of Parliament, the House of Lords, Lord Dr Paul Boateng, has urged African governments to devote a chunk of their budgets to the development of the agriculture sector to make it "the game changer for their economies."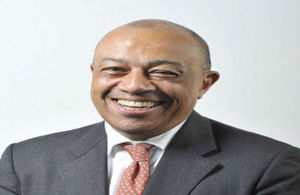 A Member of the British Upper Chamber of Parliament, the House of Lords, Lord Dr Paul Boateng, has urged African governments to devote a chunk of their budgets to the development of the agriculture sector to make it "the game changer for their economies."
He said the funds should be channeled into the research and development of new methods of farming to enable Africa to produce not only to feed itself but become a net exporter of food to the rest of the world.
Dr Boateng made the call in an exclusive interview with some selected African journalists who are Fellows of Biosciences for Farming in Africa (B4FA) shortly after addressing a special luncheon at the House of Lords on Wednesday.
The programme was specially organised by B4FA to offer opportunity to the fellows to interact with doctoral students of Cambridge University, Members of the House of Lords and professors in science.
Dr Boateng said bioscience application in agriculture was the way to go, and urged Africans not to turn their backs to the new technology in farming but embrace it in a manner that would help them transform the agricultural sector. "Why should Africa be spending billions of foreign currencies to import food to feed its people when it could easily become the net exporter of food?" he quizzed.
According to him, the agricultural potential of the continent is enormous and can easily be a game changer for the various economies if the right investments are made into the sector. "The youth do not have jobs and the agriculture sector can help create job opportunities for them in a manner that will not make them feel belittled but very well placed and empowered in society," Dr Boateng added.
Statistics
Crop losses due to pests and diseases are estimated at 35 per cent, while 80 per cent of African rice farms traditionally depend on rainfall. Africa's population now stands at 1.1 billion and it is expected to reach 2.4 billion by 2050, yet up to 25 per cent fall in agricultural yields is estimated due to climate change by the same year. In spite of this potential, the average grain yield, for instance, in Africa is 2.2 tonnes per hectare, below the world average of 3.4 tonnes per hectare.
Way forward
Against this background, Dr Boateng suggested that unless Africa embraced new technologies and biosciences into in its agricultural sector early enough, it would lag behind. Dr Boateng waded into the genetically modified foods debate and indicated that they were new technologies that could be adopted to help change the face of farming on the continent of Africa and in the world.
To him, Africa has no reason to wait to be hit by massive food shortages before taking action on what can rather make the continent rich and bring back smiles on the faces of small to medium-scale farmers, for instance.
Published 11 April 2014