Press release
Major improvement work for the A138 Chelmer Viaduct to start in Essex
Work will start next week on the first major improvement work on the Chelmer Viaduct in Chelmsford.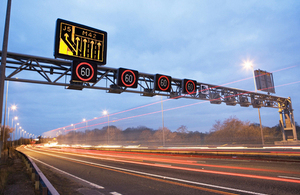 The replacement of the existing viaduct is necessary as the bridge is in a poor condition and is deteriorating. If no action is taken then the A138 could become subject to weight restrictions and eventual closures.
The scheme which is part of a £28 million investment programme will involve the construction of the new viaduct and the demolition of the existing viaduct, building three lanes of carriageway, a shared footway and cycleway and a new footpath. These improvements will increase the capacity along the Chelmer Viaduct, reduce congestion, increase safety and improve journey times.
On Monday (26 January) advanced works will begin for the main access site to be constructed off Chelmer Village Way. These works will involve realignment of road kerbing and footpath, surfacing of Bell mouth, establishing a site compound and altering existing street lighting.
The advanced works will take place over 10 days from 8am until 6pm and lane one westbound will be closed from Beeleigh Link roundabout to Chelmer Way roundabout.
Highways Agency Contract Performance Team Leader Rob Barron said:
The A138 Chelmer Road is a vital transport link and heavily used by local residents and businesses within Chelmsford.

The existing Chelmer Viaduct is in a poor condition, although we're content it remains safe for use at the moment.

The majority of the advanced works will be carried out offline with minimal disruption to local residents and businesses. It will allow the contractors to prepare the site ready for the main works to begin.

We have planned the work carefully to minimise disruption and are engaging with those affected to ensure they're aware of the work. I would advise anyone wishing to use the viaduct to plan their journeys and to allow extra time.
We anticipate the main works will start in February subject to weather conditions and will take approximately 18 months to complete. More details will be announced closer to the time.
The Highways Agency provides live traffic information via its website www.highways.gov.uk/traffic, iPhone app, local radio travel bulletins and electronic road signs. Travel information is also available by phone from the Highways Agency Information Line on 0300 123 5000 and updates will be provided via Twitter @HAtraffic_east
General enquiries
Members of the public should contact the Highways Agency Information Line on 0300 123 5000.
Media enquiries
Journalists should contact the Highways Agency press office on 0844 693 1448 and use the menu to speak to the most appropriate press officer.
Published 23 January 2015