Mahmoudia Motors Holds Special Screening of 24th Bond Film 'SPECTRE'
Jaguar C-X75, Range Rover Sport SVR and Land Rover Defender make silver screen appearances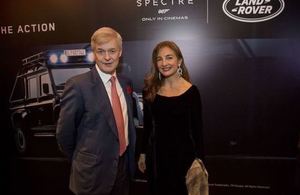 In collaboration with the British Embassy, Mahmoudia Motors- the sole and official dealer of Jaguar and Land Rover cars in Jordan - hosted a special screening event celebrating the release of the highly anticipated James Bond film, SPECTRE, starring Daniel Craig, Christoph Waltz and Monica Bellucci. The exclusive screening - which took place on Thursday 5 November, 2015, at Baraka Mall's Prime Cinemas - was attended by British Ambassador Edward Oakden CMG and his wife Dr. Florence Eid-Oakden, as well as a group of select invitees.
After a lavish cocktail reception, guests were treated to a viewing of SPECTRE, the 24th film from Albert R. Broccoli's EON Productions, Metro-Goldwyn-Mayer Studios and Sony Pictures Entertainment, to centre on the iconic character of British secret agent, James Bond. In an evening epitomizing the pinnacle of British sophistication, Mahmoudia Motors celebrated the appearance of its superior British vehicles in the world-renowned film franchise, with the Jaguar C-X75, Range Rover Sport SVR and Land Rover Defender all playing vital roles in some of SPECTRE's most gripping action sequences.
Speaking at the reception, British Ambassador Edward Oakden said: 'We have all been eagerly anticipating the launch of James Bond's latest adventure. Tonight's special screening promises to be a thrilling experience, from which the audience will emerge stirred, but hopefully not too shaken. The creative industries are an area of great strength for the UK and James Bond is just one example of this. I'm delighted to have seen some of the exciting new Jaguars and Land Rovers in the film, and look forward to their early appearance on Jordanian roads, although hopefully not driven in the more adventurous manner that we expect to enjoy this evening.'
SPECTRE sees the Jaguar C-X75 driven through the moonlit streets of Rome in one of the movie's most thrilling high-speed chase scenes. The Jaguar C-X75 supercar, named the most advanced Jaguar ever created, was provided by Jaguar Land Rover Special Vehicle Operations (SVO) in collaboration with development partner Williams Advanced Engineering. In major action sequences shot in Austria, specially modified Land Rover Defenders and the Range Rover Sport SVR - the fastest, most powerful Land Rover ever–steal the show. The highly capable Defenders boast huge 37-inch diameter off-road tyres and enhanced body protection to tackle the challenging terrain of the snow-covered mountain roads used for filming.
SPECTRE is now showing in cinemas across Jordan.
About SPECTRE A cryptic message from the past sends James Bond (Daniel Craig) on a rogue mission to Mexico City and eventually Rome, where he meets Lucia Sciarra (Monica Bellucci), the beautiful and forbidden widow of an infamous criminal. Bond infiltrates a secret meeting and uncovers the existence of the sinister organisation known as SPECTRE.
Meanwhile back in London, Max Denbigh (Andrew Scott), the new head of the Centre for National Security, questions Bond's actions and challenges the relevance of MI6, led by M (Ralph Fiennes). Bond covertly enlists Moneypenny (Naomie Harris) and Q (Ben Whishaw) to help him seek out Madeleine Swann (Léa Seydoux), the daughter of his old nemesis Mr White (Jesper Christensen), who may hold the clue to untangling the web of SPECTRE. As the daughter of an assassin, she understands Bond in a way most others cannot.
As Bond ventures towards the heart of SPECTRE, he learns of a chilling connection between himself and the enemy he seeks, played by Christoph Waltz.
Sam Mendes returns to direct SPECTRE, with Daniel Craig reprising his role as 007 for the fourth time. SPECTRE is produced by Michael G. Wilson and Barbara Broccoli. The screenplay is by John Logan and Neal Purvis & Robert Wade and Jez Butterworth, with a story by John Logan and Neal Purvis & Robert Wade.
Published 11 November 2015