News story
Magna Carta 800th anniversary celebrations well underway
Celebrations to mark 800th anniversary of the Magna Carta in Bury St Edmunds are well underway says Local Government Minister Brandon Lewis.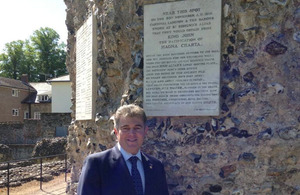 In a visit to Bury St Edmunds, the minister saw first hand how preparations are developing to mark the signing of the Magna Carta. On 3 June 2014 the town is looking to hold a pageant, museum displays, school debates and have a choir singing to remind people of the historic moment in British history.
During the visit, the minister met with Councillor John Griffiths, Leader of St Edmundsbury Borough Council, Margaret Charlesworth, the Chairman of the Magna Carta 800 committee, and other members responsible for organising the celebrations.
Local Government Minister Brandon Lewis said:
The Magna Carta is the foundation stone of democracy in England, and it paved the way for the freedoms enjoyed by hundreds of millions of people across the world. Marking its 800th year anniversary in Bury St Edmunds ensures we never forget the crucial role the Magna Carta played in giving us the liberties we enjoy today.
Further information
The Magna Carta was responsible for enshrining the rule of law in English society, defining limits on taxation and paving the way for trial by jury.
In 1214, the Barons of the time came to the Great Abbey of St Edmund to swear a solemn oath at the High Altar that if King John refused to grant them demands set out in a great charter, they would withdraw their obedience and declare war against him. The following year the charter was sealed by the King and became known as the Magna Carta.
Published 4 June 2013