World news story
Macedonian Army Officer Makes History
Lt Selma Biberovic becomes first ever Macedonian to graduate from the UK internationally renowned Royal Military Academy Sandhurst.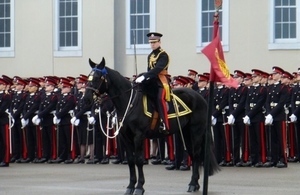 On Friday 11 December 2015, Lt Selma Biberovic (24) from Veles, became the first ever Macedonian to graduate from the internationally renowned Royal Military Academy Sandhurst (RMAS) in the UK.
Representing the Queen at the Parade was His Royal Highness, The Prince of Wales. Also present at the Parade on behalf of the Armed Forces of the Republic of Macedonia was Major General Muhumet Racaj, Deputy Chief of Defence, and Colonel Zoran Dodevski of the General Staff.
The Parade marked the completion of 12 months of intensive initial army officer training of one hundred and forty officer cadets commissioned with 24 from overseas countries including from Kosovo and Albania.
Sandhurst is the place where every British Army officer completes their initial training, which concentrates on leadership skills and prepares officers for military operations at the tactical level.
Officer Cadet Biberovic said:
I am immensely proud to be the first officer from my country to graduate from Sandhurst. It has been a demanding course but I have learned a great deal and made many good friends. I am grateful for this unique experience to train in the UK.
During the visit Major General Racaj met the Commandant of the Royal Military Academy Sandhurst, Major General Paul Nanson and had the opportunity to find out more about the training offered. Major General Racaj also visited some of the excellent facilities at the Academy. He said:
This is a notable day for Macedonia and our bilateral defence relations with the UK, but most importantly, it is a great day for Lt Biberovic. She has been an excellent ambassador for the Macedonian Army as our first officer to graduate from this prestigious military academy. We look forward to sending more cadets to Sandhurst. We are also very pleased that in January 2016 our first officer will commence initial air force officer training at the Royal Air Force Academy at Cranwell.
Lieutenant Colonel Richard Parry, UK Defence Attache in Skopje said:
I am extremely pleased for Lt Biberovic and congratulate her. She has been a shining example and set the bar very high for her successors at Sandhurst. She will have learned much and made some lifelong friends from across the world. She should be proud of her performance and hard work. I wish her well for her military career ahead.
UK and Macedonia bilateral cooperation spans over two decades with a range of activities. Our work involves working shoulder to shoulder in Afghanistan, support on defence reforms to spectrum of training and education for the Macedonian defence personnel.
You can read here more information about the Royal Military Academy Sandhurst, the Royal Air Force College Cranwell and the type of training and education they provide.
Connect with us on Facebook or @ukinmacedonia
Read our blog UK in Macedonia
Published 15 December 2015