World news story
Macedonian debate on economic aspects of intellectual property
The British Ambassador opens a conference in Skopje devoted to intellectual property rights.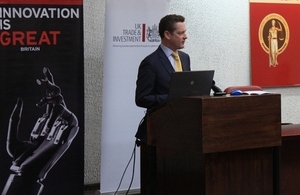 On 22 November in Skopje a conference devoted to the economic aspects of intellectual property and its importance to financial and business sectors brought together the legal community in Macedonia, business representatives and students.
Our Ambassador Christopher Yvon was among the keynote speakers at the official opening of the conference along with the Dean of the Law Faculty Dr. Borce Davitkovski and Ray Power, the Chairman of the British Business Group in Macedonia.
In his remarks Ambassador Yvon spoke about the response of the British Government to the Hargreaves report from 2011 on intellectual property rights and the measures that the UK Government has recently taken in the area such as impact assessment work on legislation, new rules for copyright issues and guidance for the business sector.
He said:
Intellectual property has huge potential to stimulate growth in countries' economies, if managed properly. With proper protection for intellectual property rights it is possible to provide a fertile environment to enhance imagination, innovation and creation. In addition to the work on impact assessments and lengthening the period of certain copyright protections, there have also been new efforts to engage young people on the importance of respecting rights and understanding how talented artists, writers and musicians make their living. The Government with the Intellectual Property Office in the UK has also boosted the range of tools available to businesses to help guide them through the system of rights.
The conference under the title "The Economic Aspects of Intellectual Property" was organised by the Law Faculty Justiniijan Prvi and the British Business Group in Macedonia.
Published 22 November 2013