World news story
Macedonia joins the Football Remembers initiative
British Embassy Skopje organises events with local partners in joining the commemorations of the Christmas Truce 1914.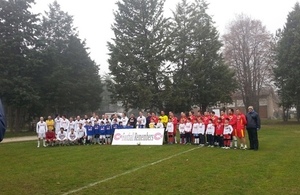 On 14 December we joined hands with the German Embassy in Macedonia on organising a Football Remembers event in Macedonia. In our efforts we were also supported by organisations such as the Macedonian Ministry of Defence and the Army of the Republic of Macedonia, Ministry of Foreign Affairs of Macedonia, British Council Macedonia, a national football club Rabotnicki, and international schools in Macedonia.
Two matches were played as part of the initiative. One by pupils in international schools in Macedonia, and the second between a joined team of the Macedonian Army and ministries of defence and foreign affairs, and a team of the diplomatic community in Macedonia.
Our ambassador Charles Garrett said:
The Christmas Truce has gone down in legend in the UK as part of our history. It reminds us that human nature can overcome, even if only for a short while, the madness of war. This year, we have been marking 100 years from the start of the Great War, but this particular centenary allows us to mark reconciliation as well. The Truce itself, and today's commemoration, both show how sport can bring people together to the benefit of everyone.
The event in Macedonia was part of the global Football Remembers initiative, organised in the UK by the British Council with the UK's Football Association, Football League and Premier League to invite schools, football clubs and academies, fans and avid young historians to join in a mass-participation event to commemorate the Christmas Truce of 1914, a series of widespread, unofficial ceasefires that took place along the Western Front around Christmas 1914, during World War I.
Find more about Football Remembers
Connect with us on Facebook or follow us @ukinmacedonia
Connect with the British Ambassador on Facebook or @BritAmbCGarrett
Read our blog ukinmacedonia
Published 15 December 2014