Government response
M25: Road surface conditions
Road surface conditions on the clockwise M25 following closure between junctions 23 and 24 on Sunday 14 July 2013.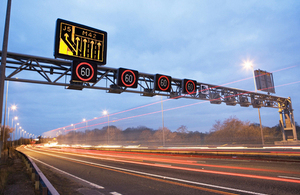 The clockwise M25 between junctions 23 and 24 was closed for safety reasons just after 3.00 pm on Sunday 14 July for urgent repairs to be carried out to the road surface.
Crews worked hard throughout the afternoon and overnight, to enable the carriageway to be safely reopened as soon as possible; that happened at 5.30 am on Monday 15 July.
This was an isolated incident and we are currently working with our contractors to establish the cause of the defect and the nature of any necessary long term repair. We expect that process to take some time. In the meantime we continue to constantly monitor road surface conditions and will take any appropriate action.
Published 16 July 2013