Press release
M25 becomes 'smartest' motorway in the country
Final preparations are taking place for the M25 to become England's first 'smart' motorway, improving journeys and boosting the economy.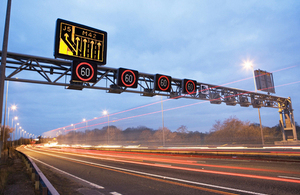 Two sections of the motorway opening this month and next, will, for the first time on a motorway scheme in England, have the hard shoulder converted for use as a permanent traffic lane for drivers and have enhanced technology to manage traffic flow to improve the reliability of journey times.
The improvements, spanning some 20 miles of the M25, are part of a new generation of technology-driven improvements on the strategic road network known as 'smart motorways'.
The advance on the M25, which will be repeated on other motorways, is the permanent conversion of the hard shoulder for traffic, providing 24/7 extra capacity.
The two sections are between junctions 23 and 25 in Hertfordshire and between junctions 5 and 6/7 on the Kent/Surrey border. The introduction of smart motorways will improve journey time reliability for drivers.
John Martin, Highways Agency Senior Project Manager said:
Around £1.7 billion is being invested into roads in the South East by 2021 with 145 new lane miles of capacity added. Most of the work to improve journeys on these stretches in Hertfordshire and Kent/Surrey is complete and we are now testing the new technology.

We are delighted to be able to open the first part of the northern section ahead of the planned full completion in December 2014. The southern section is completing significantly earlier than planned due to rescheduling of the programme.

Soon the smart motorway will be complete and we are now asking drivers to get smart and find out more about how to use it, the types of signs and signals they will see and what to do in the event of a breakdown.
This really is the start of a new age on England's motorways.
On each section the work to remove the traffic management will be carried out over a number of nights. The temporary 50mph speed limit will remain in place until the section opens.
On the Hertfordshire section work to remove the existing traffic management which has been in place during construction is taking place overnight and will be completed by the morning of Monday 14 April, when the temporary 50mph speed limit will be lifted and the new look section of motorway will be fully open.
Drivers will benefit from the full completion of the scheme later this year.
On the southern section the traffic management is due to be removed at the end of this month, with the section fully open in May. Further details will be announced nearer the time. On this section work has completed ahead of the planned December 2014 date due to a reprogramming of the work schedule and good weather over the crucial construction period.
A public information campaign to help drivers find out more about smart motorways includes information online, on YouTube, in retail outlets such as motorway service areas, radio advertising, and leaflets, For further information please visit {http://www.highways.gov.uk/publications/smart-motorways-campaign-material/)
General enquiries
Members of the public should contact the Highways Agency Information Line on 0300 123 5000
Media enquiries
Journalists should contact the Highways Agency press office on 0844 693 1448 and use the menu to speak to the most appropriate press officer
Published 7 April 2014