Press release
M2 major repairs in Kent complete
Major repairs on the M2 between junctions 6 and 7 have been completed earlier than expected and the road has now fully reopened.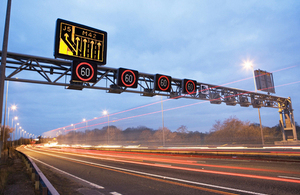 The repairs were required following a collision in which a car transporter crossed over from the London-bound onto the coastbound carriageway demolishing around 240 metres of the central reservation barrier.
In order to safely reopen the carriageways as quickly as possible, the Highways Agency and its contractors worked hard overnight to concrete in 80 new posts and install 240 metres of barrier. It was anticipated that the road would not fully reopen until Friday afternoon but the Highways Agency and its contractors managed to ensure minimal disruption to road users by re-opening the coastbound carriageway on Thursday afternoon and the London-bound carriageway before the Friday morning rush hour. A 50mph speed limit will remain in place over the weekend to ensure the concrete used in the repairs is fully cured.
There is further good news for road users in Kent with the news that the slope stabilisation work on the M20 between junctions 10 and 11 near Smeeth has also been completed, over a week ahead of schedule.
General enquiries
Members of the public should contact the Highways Agency Information Line on 0300 123 5000.
Media enquiries
Journalists should contact the Highways Agency press office on 0844 693 1448 and use the menu to speak to the most appropriate press officer.
Published 5 December 2014