Press release
M1 junction 19 to 16 barrier replacement work to be extended
Work to replace central reserve barriers on the M1 between junctions 16 and 19 in Northamptonshire and Leicestershire is to be extended to include junction 15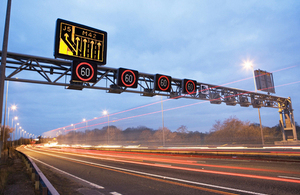 Preparatory work will start on Monday 9 February ahead of main work starting at the end of March.
Brian Gash, Highways Agency Senior Project Manager, said:
Surveys revealed the barrier between junctions 15 and 16 is coming to the end of its serviceable life so it is common sense to extend the existing programme of replacement to include this additional section.

We can use the same personnel and same equipment to get the job done, removing the need to come back at a later date while at the same time ensuring the continued safe provision of the barrier for road users.
Preparatory work includes vegetation and gully clearance, the repositioning of drainage covers, installation of CCTV and average speed cameras and the resurfacing of the hard shoulder to enable it to be used as a running lane. New lane markings and road studs will be installed in preparation for narrow lane running.
Once this is complete work will start to close the existing lane 3, at which point a temporary speed limit of 50mph comes into effect.
The extension of the scheme by a further six miles (11km) means the project is now due to be completed by Summer 2015.
General enquiries
Members of the public should contact the Highways Agency Information Line on 0300 123 5000.
Media enquiries
Journalists should contact the Highways Agency press office on 0844 693 1448 and use the menu to speak to the most appropriate press officer.
Published 5 February 2015