World news story
LSEG invests in EGX employees with a series of workshops
The London Stock Exchange Group (LSEG) partners with the Egyptian Exchange (EGX) to hold a series of workshops to build the capacity of EGX employees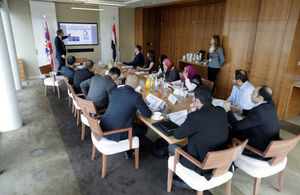 As part of their growing partnership, the world's most powerful source of international investor capital, the London Stock Exchange Group (LSEG) has partnered with the Egyptian Exchange (EGX) to hold a series of workshops to build the capacity of EGX employees. The UK is jointly funding the training with Egypt through the North Africa Technical Assistance Facility (TAF).
EGX employees will acquire knowledge into capital market practices and explore potential opportunities to take the Egyptian capital market to its next stage of growth. The workshops will comprise of three modules:
insight into the listing and disclosure rules applied in an evolved and transparent exchange system aiming to attract more investors to the marketplace;
a focus on market monitoring and surveillance rules and operations as well as IT security operations; and
an in-depth analysis of the development of a derivatives business from an Exchange perspective.
British Ambassador to Egypt John Casson said:
One of the most important forms of investments is in building people's capacity. With these workshops, LSEG will share its expertise with EGX employees with hopes that it will cascade through the organization and be a catalyst in the development of Egypt's capital market. That is what the British-Egyptian economic partnership is all about; a joint step that benefits all Egyptians and leads to increased investor confidence.
CEO of London Stock Exchange plc and Director of International Development, London Stock Exchange Group, Nikhil Rathi said:
London Stock Exchange Group is pleased to deepen partnerships in Egypt, following highly successful recent sovereign bond issuances and dual listings. The LSEG Academy is delighted to be delivering a series of professional training courses to delegates from the Egyptian Stock Exchange (EGX). The programme has been specifically designed to share knowledge of capital markets infrastructure, technology and regulation in order to help EGX execute its strategic objectives for the region and open up their market to international investors.
Mohamed Farid Saleh, Executive Chairman, The Egyptian Exchange said:
A key pillar of EGX's strategy is to build human capacity. EGX's employees are responsible for implementing EGX's bold reform plan. This spans across the value chain of capital markets and aims to improve financial literacy and inclusion, further develop Egypt's capital markets and improve the financial trading environment and intermediation.
The London Stock Exchange Group is one of the world's oldest stock exchanges, and can trace its history back more than 300 years to the coffee houses of 17th century London. Today, it is the largest stock exchange in Europe, and the most international stock exchange, with 15 Egyptian companies in its markets and over $13 billion raised in equity and debt capital since 2004 by the Egyptian government and businesses.
Published 26 April 2018