Louise Casey CB takes up her new role as head of a new troubled families team
Louise Casey CB takes up her new role as Head of a new Troubled Families Team at the Department for Communities and Local Government today.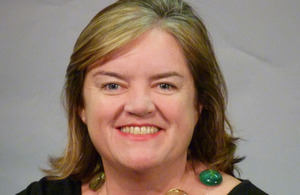 In his post-riots 'fightback' speech, the Prime Minister announced that government would "clear away the red tape and the bureaucratic wrangling" and put "rocket boosters" under work to improve the lives of the country's most troubled families. Louise Casey's new team will work across government to push forward this commitment to turn around the lives of 120,000 troubled families within the course of this Parliament.
Secretary of State Eric Pickles said:
I am delighted to welcome Louise to the Department to carry out this vital piece of work. This will be a complex challenge. I am determined that we will put the full force of Government behind getting these troubled families back on the straight and narrow.
Louise Casey said:
This is a huge challenge for me but an area in which I feel I have a lot of expertise and passion. A number of approaches will be needed to get these families lives back on track - to end their criminality, to get kids back into school, get parents ready to work and reduce costs for the taxpayer. If we get this right, we could all benefit.
Published 1 November 2011