World news story
Lord Mayor writes about successful visit to Chile in late April
During his visit to the country, the Lord Mayor of the City of London had the opportunity to witness the strong UK-Chile relations.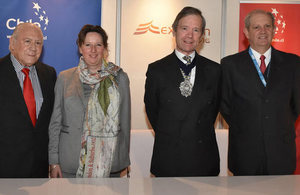 As a shipbroker with an interest in naval history, I was delighted to discover that the UK and Chile have enjoyed strong relations ever since the British Royal Navy worked with Chile to establish the Chilean Navy almost 200 years ago. Of course, much has changed between us since then and our military relationship has been transformed into a professional one as Chile continues to grow stronger on the world economic stage.

Indeed 2016 is an exciting time: our companies are working ever more closely together and our respective strengths in the fields of mining and energy are opening up new opportunities. As Latin America's top ranked country in the World Bank's ease of doing business survey and a place where entrepreneurism is celebrated, Chile is a natural partner for the UK and one which we are keen to develop more fully.

As ambassador for the UK's financial services industry, my visit focused on several areas: firstly I attended Expomin 2016 in Santiago - this was an invaluable opportunity to unlock commercial opportunities for UK-based and Chilean companies. Mining is a sector where the UK and Chile already work very closely together, with export opportunities in excess of £1.1BN (over the next 5 years). There are good reasons for this - London is home to everyone from geologists and engineers to bankers, brokers, accountants and lawyers, who know a great deal about listing and floating mining companies. It is also a safe and stable market where there is capital that is willing to be invested in mining.

I also discussed with business leaders and politicians the advantages for Chilean companies, legal firms and financial services professionals of listing in London. The London Stock Exchange is one of the world's most international capital markets, home to almost 3,100 companies from more than 70 countries around the world. Many of the world's leading investment houses and financial institutions are based here and London's professional investors are known for their outward-looking approach, offering companies from around the world access to a deep and wide pool of investment capital.

London remains the natural home of large, established metals producers and the London Stock Exchange's alternative investment market continues to attract many development stage companies and those emerging from the exploration focused markets overseas. London markets have a long history of helping to facilitate the growth of Chilean companies including two of Chile's most high profile companies – Banco de Chile and Antofagasta. I hope this visit will lead to even more collaboration between us and encourage more Chilean companies to look to London to raise capital and as a stepping stone to grow their business.

Finally I rose awareness of London's asset management offering. The UK is the largest European centre for investment management and manages around £2.2 trillion on behalf of foreign clients. It continues to be a hugely attractive destination for institutional funds as well as private families and individuals looking for a safe and stable investment environment.

I am confident that London has the expertise, depth of capital and liquidity to help support the next century of Chilean growth and I look forward to working with you in the future.
Jeffrey Mountevans, Lord Mayor of the City of London.
Published 9 May 2016