World news story
Lord Mayor of The City of London welcomes further partnership with Taiwan
City of London Lord Mayor visited Taiwan to maximise the opportunities in financial and professional services between the UK and Taiwan.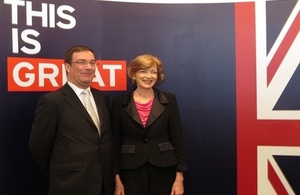 City of London Lord Mayor Fiona Woolf, the global ambassador for UK-based financial and professional services, visited Taiwan on 14-15 January to maximise the opportunities in financial and professional services between the UK and Taiwan.
In order to continue the City of London's high-level engagement with the Taiwanese authorities and to explore further opportunities for collaboration, the Lord Mayor met key political and business leaders, including President MA Ying-jeou, Minister of Economic Affairs, CHANG Chia-juch, Chairman TSENG Ming-Chung of the Financial Supervisory Commission, Deputy Governor YANG Chin-long of the Central Bank, Deputy Mayor TING T.Y. of Taipei City, and Michael Lin, President of Taiwan Stock Exchange. She also met UK financial services businesses based in Taiwan and major Taiwan financial holding groups and promoted investment opportunities in the energy, transport, communications and water & waste sectors in the UK to Taiwanese companies.
The UK is an important bilateral trading partner for, and major investor in, Taiwan. The UK is Taiwan's 3rd largest trading partner in Europe and British businesses are highly visible in the Taiwanese domestic market. Bilateral trade between the UK and Taiwan in 2012 reached £6.4 billion, the highest figure ever. Over the past decade, UK goods exports to Taiwan have remained largely stable while service exports to Taiwan have grown at an average of 14% per year. UK service exports to Taiwan reached £923 million in 2012, the last year for which we have records.
The UK has attracted 180 Taiwanese companies to invest in the UK. Many Taiwanese financial institutions are represented in London. These include the Financial Supervisory Commission, the Central Bank, the Bank of Taiwan, ChangHwa Commercial Bank, First Commercial Bank, HuaNan Commercial Bank, Mega Bank and SinoPac Securities. Currently 28 Taiwanese companies have GDRs listed or traded on London Stock Exchange. Major ones include Hon Hai, Fubon and Farglory.
British businesses are highly visible in the Taiwanese domestic market. There are around 300 British companies operating in Taiwan, including many big financial corporate giants, with investment amounting to US$69.1 billion by October 2013.
During her stay, the Lord Mayor also made a keynote speech at a luncheon jointly organised by the British Chamber of Commerce, Taipei (BCCT) and the American Chamber of Commerce giving an overview of the state of the UK economy and the importance of the financial and professional services industries both in the UK and globally.
Lord Mayor Fiona Woolf said: "I believe exports of UK services to Taiwan will continue to grow as the Taiwanese authorities increasingly focus on developing the services sector. In particular we see mutual opportunities in Taiwan's financial services sector, for example in continuing to work together on RMB business. We are clear that Taiwan and London can be complementary financial centres and are keen to further develop this partnership. I also welcome increased levels of Taiwanese investment from the many companies with global ambitions in the UK's infrastructure projects."
Financial services in the UK account for 9.6% of UK GDP. The UK accounted for 41% of global foreign exchange trading in April 2013. London has 251 foreign banks, higher than nearest rival New York, Paris or Frankfurt.
Notes to editors:
The Lord Mayor Fiona Woolf's biography is attached. She previously visited Taipei in March 2011 with the then Lord Mayor, when she was the Sheriff of the City of London.

About the Lord Mayor of the City of London

The Lord Mayor is head of the City of London authority for one year and the position is unpaid and apolitical. It is an exceptionally demanding role. The Lord Mayor spends some 90 days abroad and addresses some 10,000 people face-to-face each month (making around 800 speeches a year). The Lord Mayor represents City businesses and helps the City Corporation advise the Government of the day on what is needed to help the financial services sector to function well. The Lord Mayor frequently travels to represent the City; and travels overseas with the status of a Cabinet Minister. On average, the Lord Mayor will meet one head of state a month and will meet a prime minister or finance minister each week to discuss financial services, often in conjunction with senior City business representatives. The Lord Mayor, who is unpaid, lives in the Mansion House for the Mayoral year.

About the City of London Corporation

The City of London Corporation is a uniquely diverse organisation. It supports and promotes the City as the world leader in international finance and business services and provides local services and policing for those working in, living in and visiting the "Square Mile". It also provides valued services to London and the nation. Find more information at the City of London
Published 15 January 2014