World news story
Lord Mayor of London visits the UAE
From:

Part of:

Published:

20 January 2016
The Lord Mayor of London's Square Mile, Jeffrey Mountevans, is leading a large business delegation to the United Arab Emirates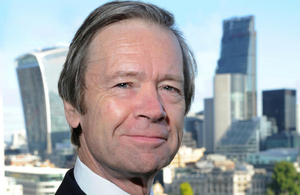 The Lord Mayor of London's Square Mile, Jeffrey Mountevans, is leading a large business delegation to the United Arab Emirates (22 - 26 January) as part of his commitment to strengthen relationships in the region and ensure that the UK remains the business partner of choice for the UAE.
The Lord Mayor, acting as ambassador for the UK's financial and professional services, will be meeting with senior members of the government, investment authorities, regulators and business leaders. Speaking ahead of his trip, Lord Mayor Mountevans said:
My visit shows how vitally important the trade and wider bilateral relationship is between the UK and the UAE. As the whole Gulf region looks to diversify its respective economies, I want to show how the City of London and its expertise in financial and professional services can support the region with its ambitious plans, working closely with UK Trade & Investment and the British Embassies. We have so much to offer ranging from innovative financing models to our expertise in the insurance and legal market, education, qualifications and Islamic Finance.
This visit will show how the UK wants to continue to be the UAE's natural partner of choice in its continued economic growth. For example, UK Trade & Investment (UKTI) is actively seeking UAE businesses who wish to source British services including in the FinTech and Financial and Professional Services sectors. I encourage companies in the UAE to contact UKTI at the British Embassy to access their wide network of British suppliers.
I look forward to finding ways we can work together to build a more prosperous future.
The Lord Mayor will also visit Saudi Arabia and Kuwait during his time in the Gulf.
Notes to editors
About the Lord Mayor of the City of London: The Lord Mayor is head of the Square Mile's City of London authority for one year and the position is unpaid and apolitical. It is an exceptionally demanding role. The Lord Mayor spends some 90 days abroad and addresses some 10,000 people face-to-face each month (making around 800 speeches a year). The Lord Mayor represents City businesses and helps the City Corporation advise the Government of the day on what is needed to help the financial services sector to function well. The Lord Mayor frequently travels to represent the City; and travels overseas with the status of a Cabinet Minister. The Lord Mayor meets several international Heads of Government and Business each month to discuss financial services, often in conjunction with senior City business representatives. The Lord Mayor lives in the Mansion House for the Mayoral year.

Companies joining the Lord Mayor as part of the business delegation include: Lloyds of London, Linklaters, Invesco Asset Management, Grant Thornton & Deloitte.
Contact for this press release
Sam Kelly
Press and Public Affairs
Tel: +971 4 309 4444
Document information
Published: 20 January 2016