World news story
Lord Mayor of London partners with Barclays to stimulate Capital Market Growth
Lord Mayor Rt. Hon. Alan Yarrow's business breakfast meeting on Capital Market with Barclays Ghana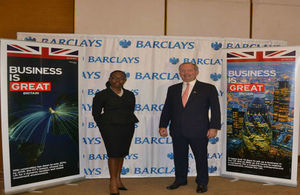 The Lord Mayor of the City Of London, Alderman Alan Yarrow has stated that "developed capital markets could be a real catalyst for Ghanaian businesses and for the people of Ghana". He made this comment at a Barclays sponsored Business Breakfast Meeting organised in partnership with UK Trade & Investment. The event was part of his recent official visit to Ghana. The Barclays Breakfast Meeting was under the theme 'Growing Ghana's capital Markets for sustainable development'. Panellists at the Business Breakfast Meeting held at Movenpick, included Seth Asante of Bentsi-Enchill Letsa & Ankomah, Daniel Ogbarmey Tetteh of Databank, Winston Nelson of African Alliance, Kobla Nyaletey of Barclays, and Ekow Afedzie of the Ghana Stock Exchange. The panel sought to stimulate discussions on capital markets and their role in funding companies and developing the economy, demonstrate how UK expertise can help to grow capital markets and what opportunities can be accessed, discuss how SME's can benefit from a thriving capital market-raising capital, receiving the needed advisory services and support, growing and having a positive impact on the economy and the role of government in developing the capital market. Ghana has seen improvements in its capital market structure and infrastructure over the years, the challenge is for players in the space to be more dedicated to innovation, openness, collective trust and commitment to working strongly together. The Government has been identified as a key player in ensuring the successful development and growth of the capital market, interventions such as tax rebates, tax cushioning, and tax exemption on market services will go a long way to strengthen market activities.
Mrs Abena Osei-Poku, Corporate Director of Barclays Bank, highlighted the key role Barclays has played in Ghana's capital markets, commenting that "[Barclays has] played lead roles in Ghana's Eurobonds issuances, domestic government local currency bond issuances and distribution and the development of the secondary bond market." She further stated that "Barclays believe[s] in the potential of the capital market in Ghana as a solid avenue for raising long term capital and a good platform to build stronger governance systems.''
The Lord Mayor mentioned that ''Accessing high quality capital markets is crucial in today's global and interconnected world. It's all about access: capital markets allow investors to access finance, and allows for businesses to access the expertise needed for growth. But on top of that, listing transforms fundamentally the way in which a business is run – bringing in new efficiencies and allowing for a better return on capital. In real terms, that means jobs, growth, infrastructure, and prosperity.''
London's Alternative Investment Market (AIM) has celebrated its 20th anniversary. During this time it has raised almost £24 billion and has helped more than 3,000 SMEs to raise equity. Flexibility is provided by less regulation and no requirements for capitalisation or number of shares issued. And many of those companies have gone on to join the main market after growing on AIM. Invited guests highlighted their optimism of Ghana's Alternative Exchange (GAX) following suit. There was a call on SME's to consider listing on GAX as it will offer them a better alternative to raising long term capital, they were also encouraged to break the cultural attitude of wanting to own a hundred percent of their business and rather look at getting others to take up shares in their growing businesses.
The Lord Mayor went on to comment that developing a country's capital market is easier said than done. Capital markets cannot function in a vacuum. It takes government commitment, legal support and the engagement of regulators. ''For one thing, we in the UK stand ready to help our friends and partners in Ghana; we will share willingly our knowledge, experience and advice. The UK has some of the finest financial, legal and professional services in the world. We have an international investor base, with experience of capital markets all over the world. We have wide sector coverage: the AIM platform alone has 40 different industries from over 28 countries. And we have a sensational network of advisors who can support Ghanaian organisations at every stage in the process. Those advisors are particularly keen to do their bit. We would all like to explore opportunities to create new partnerships and reaffirm old ones.''
Published 21 October 2015