World news story
Lord Mayor of London drives greater business collaboration between the UK and the UAE
Fireworks exploded from the Burj Khalifa and celebrations were held across the United Arab Emirates last November following the announcement that Dubai had been chosen to host the 2020 World Expo. In becoming the region's first city to hold the Expo, His Highness Sheikh Mohammed bin Rashid Al-Maktoum, Ruler of Dubai vowed to "breathe new life into the ancient role of the Middle East as a melting pot for cultures and creativity."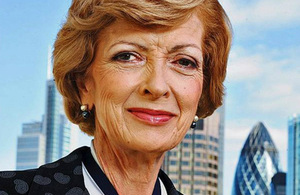 As well as being a hub for commerce, the UAE has always been an innovative hub for exchanging ideas and information. That is why the British government was fully behind the Expo bid from early on.
Over one million British nationals visit the UAE every year and more than 100,000 British citizens live and work in the country. Meanwhile, thousands of Emiratis come to the UK to visit, study or do business. Our partnership crosses sectors including education, energy, defence and many others.
This cultural and commercial exchange is mutually beneficial for both countries as Vince Cable, UK Secretary for State for Business, Innovation and Skills underscored during his visit to the UAE in January. Dr Cable recognised this fact and strengthened our partnership by launching a new UK Trade and Investment Gulf Inward Investment team in Dubai. I hope to build on this momentum when I as Lord Mayor of London, lead a business delegation to Dubai and Abu Dhabi later this week.
As Lord Mayor of London, I am the ambassador for the UK-wide financial and professional services sector - known in shorthand as 'the City'. This cluster has world leading expertise on designing, structuring, financing, and delivering major projects and deals. We view this partnership as one of equals, where deeper ties will support the goals of job creation, growth, economic diversification and Emiratisation. Having worked in the region as a lawyer myself I am truly excited by the UK-UAE collaboration that is taking place.
Today, British companies operate across a range of markets in the UAE, many of which are looking for opportunities to grow their business even further. The joint UK-UAE taskforce set up in 2010 has played a key role in working towards the goal of increasing bilateral trade in goods and services to £12bn by 2015. Figures showing that trade levels climbed to £10bn in 2012 demonstrate that we are well on track to meet this ambitious target.
In order to boost these totals even further, we want to see more investors and institutions from the UAE consider the opportunities available in the UK. The investment environment in the UK is increasingly open for business. The Chancellor George Osborne has pledged to create in Britain the most competitive corporate tax regime in the G20 by reforming rules and reducing headline rates – falling from 28 per cent in 2010 to 20 per cent from next year.
Projects such as DP World's £1.5bn (Dh9.04bn) London Gateway container port, Masdar's London Array – the world's largest offshore wind farm – and the Emirates Air Line – a cable car across the River Thames in London – showcase the breadth of investment opportunities available. That also helps to explain why half the top ten sovereign wealth funds – including the Abu Dhabi Investment Authority – have offices in London and Etihad Airways chose Manchester as the location for their European centre.
This is, of course, a two way partnership and we also believe that British businesses have a lot to offer to the UAE. This is especially true in the run up to Expo 2020 as UK expertise in managing major events from design to delivery is held in high regard globally - as demonstrated by the 2012 Olympic and Paralympic Games. I welcome Arup's already close involvement in the development of the 2020 Expo bid and hope to see more UK firms get involved in the ambitious plans.
Education is a key component of any successful nation. The UK's provision of world class education, training and qualifications is a major asset for industries requiring the best people regardless of background, such as financial and professional services. There are more overseas campuses of British Universities in the UAE than there are from any other country and, as Chancellor of City University, I am impressed by the achievements of Cass Business School in Dubai. This is supporting the Emiratisation drive to produce the next generation of home grown great leaders. We welcome UAE students to the UK and, personally, I particularly want to see more women joining the sector.
This is an exciting time as the eyes of the world turn to the UAE ahead of Expo 2020. The UK is proud to stand alongside such a close friend and ally.
Fiona Woolf is Lord Mayor of London
Published 20 February 2014