Lord Mayor of the City of London visits Prague
The Lord Mayor, Andrew Parmley, met Czech government and bank representatives to strengthen trade and financial ties between the Czech Republic and the UK.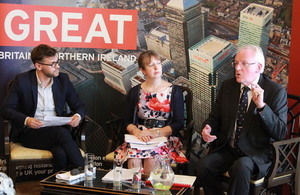 The Lord Mayor appreciated Prague's banking sector, Czech legal environment and financial services including modern technologies.
Lord Mayor said:
In Czechia, British companies are finding excellent opportunities to do business, in the capital market, financial services and financial technologies Fintech. The City of London is ready to support Czech ideas in this fast developing sector. Despite Britain leaving the European Union, the relationship between London and Czechia is based largely on common trade interests, and it will continue to strengthen.
Andrew Parmley is the 689th representative of a group of guilds and trade companies. He manages the so called 'Square Mile' which is the financial heart of London. His office is apolitical and defends interests of the London business community. He advises the government in questions of finance and will serve as Lord Mayor for one year.
Published 27 June 2017