World news story
Lord Livingston attends UKTI-BHCC New Year reception
Trade minister highlights strong commercial links between the UK and Greece.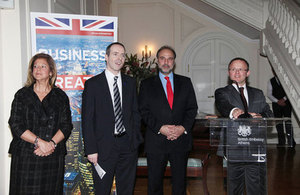 Lord Livingston, UK Minister of State for Trade and Investment and HMA Mr John Kittmer welcomed guests to a New Year reception at the British Residence in Athens on Thursday 27 February 2014. This was a joint reception hosted by UK Trade & Investment (UKTI) Greece and British Hellenic Chamber of Commerce (BHCC). In a celebration of UK-Greece trade relations and in the presence of representatives of some of the UK's top companies, the minister had the opportunity to discuss issues of bilateral interest. He also highlighted the strong commercial links between the 2 countries.
New Year Reception
In his opening speech, British Ambassador John Kittmer noted:
This is a year for which many of us have high hopes. Thanks to the efforts of many of you here tonight, UK exports to Greece in 2013 rose by 9.2% to £920 million. […] Indeed there are reasons to feel confident and the business community is showing signs of optimism.
Lord Livingston, who attended the reception on occasion of his EU Presidency visit to Athens, noted in his opening speech:
I am delighted to be here. I want to congratulate Greece for coming through the tough times. This has been achieved largely through the efforts of people like you who are here for the long term. […] I wish to ask all of you to talk to UK companies and tell them that there are opportunities in Greece. I want you to tell Greek companies that there are opportunities in the UK. You will benefit, the UK will benefit, Greece will benefit.
Within the context of UKTI Greece's ongoing support to UK companies, the reception was an excellent opportunity to network, exchange ideas and best practices and engage with high-ranking government officials including the Greek Minister for Development Mr Kostis Hatzidakis.
UK – Greece trade relations
Greece is currently the UK's 43rd largest export market for goods (2012 ranking) and in 2013 bilateral trade was worth £1.64 billion. The value of UK exports to Greece in 2013 rose by 9.2% to £920 million. The value of Greek imports to the UK increased by 7.3% on 2012 figures to £723 million in 2013 and links between the 2 countries are strong. Some of the top UK companies active in Greece include:
Vodafone
BP
Dixons
Marks & Spencer
British Airways
GlaxoSmithKline
Mothercare
Unilever
Following 6 years of recession, the Greek economy is showing signs of recovery.
Contributing to the improved market conditions are:
the implementation of the Greek government's privatisation programme and public sector reforms
increased optimism in sectors such as tourism and energy
the higher absorption levels of approved EU funding (ERDF 2014-2017) for the promotion of innovation & research, the digital agenda, support for SMEs and the low carbon economy
About the British Hellenic Chamber of Commerce
Founded in 1945 the British Hellenic Chamber of Commerce (BHCC) is an independent, autonomous, non-profit organisation, funded solely by income from membership fees and profits arising from events and functions organised by the Chamber. The main purpose of the Chamber is to promote bilateral Greek-British trade and to provide business and investment services for its members. The BHCC represents members' interests in both Greece and the UK.
UKTI Greece
UKTI Greece provides in-country support to UK companies already active in Greece or wishing to expand into the market. It introduces British products and services and helps showcase the very best of what Britain has to offer.
If you are a UK company looking to expand your business in Greece contact:
Head of Commercial Section and Defence & Security Sales
Sotiris Leontaris
British Embassy
Ploutarchou 1
106 75
Greece
Published 28 February 2014