World news story
Lord Green visits UAE to celebrate UK education excellence and to strengthen business ties
Lord Green arrives today in the United Arab Emirates to support continued UK-UAE collaboration.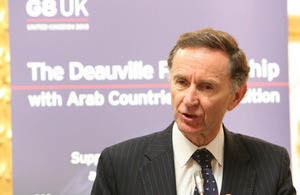 During his two day visit, Lord Green, of Hurstpierpoint, UK Minister of State for Trade and Investment, will officially open the second phase of Heriot Watt University campus in Dubai and will meet senior government officials.
Lord Green will also meet with the British Business Groups in the United Arab Emirates (UAE) who played a key role in driving forward the Minister's "Chamber Initiative". This initiative will lead to two business centres and incubators opening in Dubai and Abu Dhabi by 2014.
Ahead of the visit, Lord Green said:
The UK and UAE share an excellent business relationship which continues to grow. There was a 9% increase in UK exports to the UAE this year and an even larger increase in UAE exports to the UK. On top of the trade in tangible goods, the UK and UAE are partners in education which is critical to the future of both our economies. Since the establishment of a UK-UAE Taskforce in 2010, we continue to look at ways to collaborate even further.
Her Majesty's Consul General Edward Hobart said:
The opening of Phase 2 of Heriot Watt's campus in Dubai demonstrates the value that UAE students attach to Heriot Watt's offering. It is also an example that the UK Higher Education brand is well respected and that close ties between UK and UAE in the education sector continue to grow.
The UK government promotes UK education overseas through the Education is GREAT Britain campaign, focusing on key priority markets including the UAE. The opening of phase two of the Heriot-Watt campus is the first time the Education is GREAT Britain campaign has been seen in the region.
Background on UKTI
UK Trade & Investment (UKTI) is the government department that helps UK-based companies succeed in the global economy. We also help overseas companies bring their high quality investment to the UK's economy – acknowledged as Europe's best place from which to succeed in global business. UKTI offers expertise and contacts through its extensive network of specialists in the UK, and in British embassies and other diplomatic offices around the world. We provide companies with the tools they require to be competitive on the world stage. For more information on UKTI, visit www.ukti.gov.uk or contact Camille Pascual, UKTI Dubai, on: +971 (0) 4 309 4314.
Published 22 September 2013