World news story
Lord Green visits Southeast Asia to boost British business
A two week visit to Southeast Asia to promote high value opportunities for British businesses in the region begins today.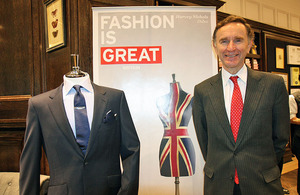 A two week visit to Southeast Asia by Trade & Investment Minister Lord Green to promote high value opportunities for British businesses in the region begins today.
During his trip Lord Green will visit Jakarta, Kuala Lumpur, Singapore, Phnom Penh, Ho Chi Minh City, Hanoi, Bangkok, Rangoon and Naypyidaw. The minister will meet leaders and business figures including Cambodian Prime Minister, Hun Sen, Vietnamese Prime Minister Nguyen Tan Dung and Burmese opposition leader Aung San Suu Kyi.
The visit will also form part of a wider effort to enhance the support available to British companies overseas, to start trading in the region or to sustain and build on their existing activity. The intent is to help enhance the British Chamber of Commerce in five of these countries to enable them to provide high quality support services that can significantly add to those already provided through UK Trade & Investment (UKTI).
Lord Green said:
With so many high growth and emerging markets, Southeast Asia presents an enormous opportunity for UK goods and services. Through our global network, UKTI is able to give UK businesses intensive support to access high value opportunities, from large scale projects worth billions of pounds through to substantial supply chain opportunities.
We are significantly enhancing the support available for British business here in Southeast Asia. We have signed agreements with the British Chamber of Commerce in Singapore with signings planned for Malaysia, Indonesia and Thailand that will see them providing a wider range of the services British companies need to do business here.
This work by the Chambers will help UKTI focus on high value opportunities and major trade-related campaigns as well as attracting high quality inward investment to the UK, helping high value South East Asian businesses and institutions that recognise the UK as a great place to invest.
Highlights of Lord Green's visit will include:
Attending the launch of the TM Lewin brand in Jakarta
Making the opening speech at the Subsea Asia Conference in Kuala Lumpur
Launching the Enhancing Trade Initiative in Malaysia
Opening the UK Innovation Forum in Singapore
Visiting the award winning Vattanac Tower site –eight British companies have contributed to its design and construction
Visiting the My Dinh National Stadium in Hanoi to discuss opportunities for British companies at the Asian Games 2019
Opening a major infrastructure seminar in Bangkok showcasing UK expertise in large scale projects
Officially launching a British Business Group in Burma
Key Facts:
As a region, South East Asia's economy is predicted to grow by 5-5.5% in 2013 - lower than China or India, but higher than other key emerging markets and the global average
In recent years the ASEAN region has attracted a great deal of high level interest in support of UK companies exporting to the area and setting up business there
The UK is now present in all 10 ASEAN countries. UKTI has offices in nine of them
UK exports of goods only to ASEAN in 2012 were £8.9bn. An increase of 15% on 2011. UK imports of goods from ASEAN in 2012 were £12.62bn. An increase of 5%
The UK's top 3 goods exports to ASEAN are: engines, motorcars and whisky. UK imports from ASEAN region include: organic chemicals, clothing and engines. 86% of our exports go to Singapore, Thailand, and Malaysia
Exports to Singapore increased by 16% in 2012 UK goods exports to Thailand increased 38% in 2012
Prime Minister David Cameron visited Asia in April 2012
Follow Lord Green's Southeast Asia visit on Twitter using the hashtag #LdGreenSEA
Notes to editors:
To get pictures from the visit, please visit our Flickr account. Find British Embassy Jakarta on Facebook or Twitter
The government's economic policy objective is to achieve 'strong, sustainable and balanced growth that is more evenly shared across the country and between industries.' It set four ambitions in the 'Plan for Growth', published at Budget 2011:

to create the most competitive tax system in the G20
to make the UK the best place in Europe to start, finance and grow a business
to encourage investment and exports as a route to a more balanced economy
to create a more educated workforce that is the most flexible in Europe. Work is underway across government to achieve these ambitions, including progress on more than 250 measures as part of the Growth Review. Developing an Industrial Strategy gives new impetus to this work by providing businesses, investors and the public with more clarity about the long-term direction in which the government wants the economy to travel.

UK Trade & Investment (UKTI) is the government department that helps UK-based companies succeed in the global economy. We also help overseas companies bring their high quality investment to the UK's economy – acknowledged as Europe's best place from which to succeed in global business. UKTI offers expertise and contacts through its extensive network of specialists in the UK, and in British embassies and other diplomatic offices around the world. We provide companies with the tools they require to be competitive on the world stage. For more information on UKTI, visit www.ukti.gov.uk or visit the online newsroom at www.ukti.gov.uk/media.
Published 4 June 2013