Lord Green at the inaugural Innovation, Design & Technology Forum
Lord Green, UK Minister of State for Trade & Investment opened the inaugural UK Innovation, Design & Technology Forum last Friday.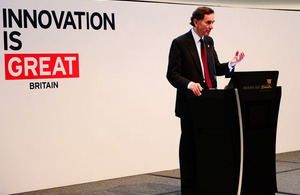 UK Minister of State for Trade & Investment Lord Green and Singapore's Minister of State for Trade & Industry Teo Ser Luck made opening remarks at the ArtScience Museum.
The forum was part of two-day joint collaboration of the British High Commission, British Council and the Singapore University of Technology and Design (SUTD). The workshop component of the event was held a day before at SUTD.
The forum was being held in Singapore as part of the initiative by the British High Commission's Science & Innovation team and British Council to develop knowledge partnerships between the UK and the countries of Southeast Asia.
Forum speakers included: Iain Gray, Chief Executive, Technology Strategy Board of the UK, Dr Raj Thampuran, Managing Director of Singapore's A*STAR, Professor Low Teck Seng from the National Research Foundation (NRF), as well as several UK innovators such as Wing Commander Andy Green, who is the World Land Speed Record Holder and driver of Bloodhound SSC, a supersonic car currently in development that will aim to attain a 1,000 mph world land speed record.
In his speech Lord Green said:
We all recognise the importance high quality education and encouraging our young people to be creative and innovative. I hope we can share our experiences and learn from each other. World land speed record holder Andy Green is here today to tell us how he and his team are using the Bloodhound Project to inspire the next generation to tackle global challenges through science, technology, engineering and mathematics.
Summing up the two-day UK Innovation Event, British High Commissioner to Singapore Antony Phillipson said:
This event has been made possible with the support of our colleagues in the British Council, Singapore University of Technology and Design and Singapore's Ministry of Trade and Industry and we are appreciative of their partnership and cooperation.
The UK has a long tradition of innovation and this event gave us the opportunity to showcase our strength in research, technology and design. Following this event, the Science and Innovation team at the British High Commission will continue to identify and pursue opportunities to collaborate with Singapore and the region.
While Lord Green was in Singapore, he also visited the Rolls-Royce Seletar Campus, witnessed the signing of the "Overseas Business Network Initiative" at the British Chamber of Commerce (BritCham), and met businesses.
Further information
Published 10 June 2013