World news story
Lord David Puttnam celebrates UK education links with the Lao PDR
The British Embassy hosted the first ever networking event for UK alumni in Lao PDR on Sunday evening in Vientiane.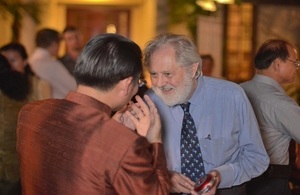 Guest of honour at the event was Oscar-winning UK film producer and the UK Prime Minister's Trade Envoy for Cambodia, Laos and Vietnam David Puttnam, on his first official visit to Laos.
Other guests of honour included Vice Minister of Education Mme Sengdouan Lachanthaboune, H.E Ambassador of the Republic of Korea Kim Soo-Gwon and the President of the Lao Youth Union Dr Vilavong Boudhakoum. Over 40 alumni attended, both Lao and those of other nationalities who have studied in the UK, including Chevening scholars from Uzbekistan and Sri Lanka now working in Laos. The event marked the 30th anniversary of the Chevening Scholarship programme (the UK government's official scholarship programme) and the launch of the 2014 Chevening Scholarship application period where the number of scholarships available will increase for Lao applicants thanks to a new partnership with the University of Warwick.
Ambassador Philip Malone said:
It is great to see some many alumni of the UK here tonight. The British Embassy wants to build closer links with all of you as we expand our work in Lao PDR. The UK has a strong reputation for its education around the world and as Lao PDR progresses towards ASEAN integration, we are keen to promote the English language and UK educational strengths in Lao PDR.
In his speech, Lord Puttnam emphasised the importance of education:
Education is often perceived as standing apart from development, when in reality, education is the most fundamental component of development.
Published 7 October 2013