News story
Looking after our environment
Sellafield Ltd's Infrastructure team took part in a clean-up operation with a difference to mark World Environment Day 2018.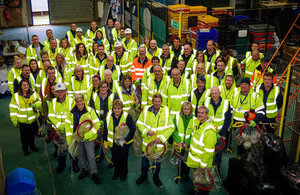 The team kitted out in protective clothing and armed with litter grabbers, took part in a clean-up operation with a difference recently.
Mike White, head of Infrastructure, Sellafield Ltd said:
We wanted to do a litter pick to reinforce our nuclear professionalism standards and raise awareness of how we can all help in improving our environment.

Like many community groups who are inspired to tackle the increasing problems with litter and waste, we wanted to do our bit on site. We want our employees to be proud of Sellafield and the environment they work in and a big step is to keep it as litter free as we can – with everyone doing their bit to maintain the standard.
Around 80 team members from Sellafield Ltd and Mitie took part. During the 2 hour pick, teams gathered around 100 bags of waste from a pair of flip flops to a tea towel to the most common cans etc.
Liz Spedding, head of Facility Services, Sellafield Ltd, added:
Teams in Infrastructure have specific jobs looking after and recycling waste but it's all of our responsibility to discard of waste appropriately.

We're all very aware of the impact rubbish has on our environment. The recent BBC 'Blue Planet II' documentary highlighted the devastating consequences and impact waste is having on our planet and our oceans.

This is just one day but hopefully it will encourage everyone to take pride in your workplaces. We have litter kits available and will offer them out through normal networks if teams want to help keep their areas tidy.
Published 5 June 2018