World news story
London Stock Exchange Group and new ways to support Egypt economy
London Stock Exchange Group looks into new ways to support Egyptian economy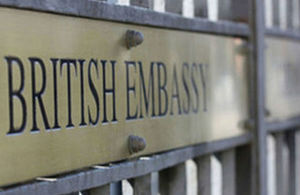 On 22 October 2017, a delegation from the London Stock Exchange Group arrived in Cairo for a two day visit to support EGX's development and connect Egyptian Government and companies to London markets – one of the world's most powerful source of international investor capital.
The London Stock Exchange is one of the world's oldest stock exchanges, and can trace its history back more than 300 years to the coffee houses of 17th century London. Today, it is the largest stock exchange in Europe, and the most international stock exchange, with 350 companies from more than 50 countries.
The delegation met with Minister of Investment & International Cooperation Dr. Sahar Nasr, Deputy Minister for International Cooperation Dr. Shehab Marzban, Vice Minister of Finance Executive Ahmed Kouchouk, Head of Public Sector Debt (DMO) Mr. Sami Khallaf, Head of Egyptian Exchange Mohamed Farid, Head of International Cooperation Sector at MSME Development Agency Ms. Aliaa El Sherif and the Sub-Governor of the Treasury, Reserves Managements and Monetary Policy Implementation at the Central Bank of Egypt Mr. Rami Aboul Naga.
The delegation is headed by Tom Attenborough, Head of International Business Development, Gokul Mani, Head of Primary Markets for Middle East, Africa & India and Adam Scheuer, the Manager at International Government Relations.
On 23 October, His Excellency the British Ambassador to Cairo John Casson hosted a reception for the visiting delegation of London Stock Exchange Group.
British Ambassador John Casson said:
Today we open the next chapter in Britain's unique investment partnership with Egypt as number one economic partner. London's financial markets offer Egypt unique access to deep and liquid pools of international investment capital. When the Egyptian government and LSE combined forces, headlines were made around the world on a hugely successful bond issuance that raised billions and helped dozen companies. Now LSE Group are here to help more companies access the investment capital needed to build the new Egypt, and to build the capacity of the Egyptian Stock Exchange to help Egypt's companies grow and create an economy that brings jobs, stability and a brighter future for all Egyptians.
Tom Attenborough, Head of International Business Development, Primary Markets, London Stock Exchange Group said:
London Stock Exchange has a long history of supporting Egyptian issuers and is proud to reinforce economic ties between the UK and Egypt. 13 Egyptian companies are listed on London's global markets and seven billion dollars has been raised by the Egyptian Government in a landmark debt issuance in London in 2017 alone.

London Stock Exchange is also renowned for its continued support for international SMEs through ELITE, our business support and capital raising programme and 'Companies to Inspire' reports, championing the fastest growing companies, including from Egypt. London offers issuers access to deep liquid pools of international investor capital, making the City a natural funding partner to Egypt as it continues on its transformative economic reform programme.
Published 24 October 2017