News story
London seminar - The Lammy Review: bringing to life recommendations 31 and 32
This event offered different perspectives from those involved in developing effective responses to meeting recommendations 31 and 32 from the recent Lammy Review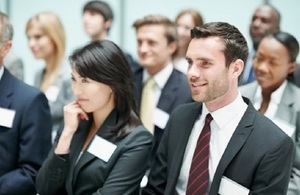 3 May, 2018
The Lammy Review: Bringing to life recommendations 31 and 32
The role of commissioning and the involvement of smaller organisations
featuring
George Barrow │ Head of Lammy Response Team │Ministry of Justice
Eila Davis │ Head of Equalities │HM Prison and Probation Service
Jeremy Crook, OBE │ Chief Executive │Black Training and Enterprise Group (BTEG)
Jonathan Martin │Head of Community Commissioning │Ministry of Justice
Omar Ralph │ Lammy Response Team Lead │Ministry of Justice
This free seminar was for those interested in bringing to life the recommendations from David Lammy's review of the Criminal Justice System. These particular recommendations are aimed at improving the probations services provided for Black, Asian and Minority Ethnic (BAME) individuals by Community Rehabilitation Companies (CRCs).
This event offered different perspectives from those involved in developing effective responses to meeting those recommendations. This included commissioning, co-commissioning, contracting and other ways of engaging with smaller or specialist service providers who can make a difference for BAME communities.
Speakers explained how the response to the Lammy review's recommendations 31+ 32 is now managed and the right way to use them to get the results envisaged. They also discussed how better engagement with the voluntary sector and community-led organisations can add value to those service improvements.
For further information please see the attached slide pack.
Published 4 April 2018