World news story
London conference: $550m for Lebanon this year
The Ambassadors and Charges d'Affaires of Germany, UK, Norway and Kuwait pledged more than $550m this year for Lebanon.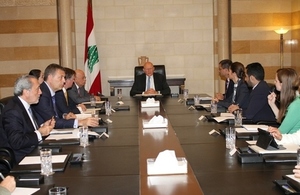 After a meeting at the Grand Serail with Prime Minister Tammam Salam and Social Affairs Minister Rachid Derbas, British Ambassador Hugo Shorter read a statement on behalf of co-host donors in the presence of German Ambassador Martin Huth, Kuwaiti Charges d'Affaires Mohamad Al Waqyan and Norwegian Charge d'Affaires Ane Jorem. Resident and Humanitarian Coordinator and United Nations Development Programme Resident Representative Philippe Lazzarani, representatives from the EU, World Bank and the US were also present at the meeting.
Ambassador Shorter said:
Following the Supporting Syria and the Region Conference held in London on 4th February, we – the co-host donors – met HE the Prime Minister and HE Minister Derbas to reiterate our strong support for Lebanon's economic stabilisation and social development as set out in the Lebanese Government's Statement of Intent, which provides the roadmap for our partnership with Lebanon.

We can today announce that, collectively, Germany, Kuwait, Norway and the United Kingdom, will provide over $550m this year for Lebanon. This funding is now being programmed in coordination with Lebanese institutions, the United Nations and the World Bank.

More broadly, the UN has confirmed that of pledges made at the London Conference, over $1billion has already been allocated for Lebanon for the coming year.

This funding will be channelled to the priorities requested by the Government of Lebanon in its Statement of Intent and in the joint Government and UN Lebanon Crisis Response Plan. In particular:

*investing in national and municipal infrastructure to create short and longer term employment for all. *investing in the education system so that public schools are safer for children and are able to deliver higher quality education for all, ensuring there is no lost generation.

In addition, Lebanon has a once in a generation opportunity to attract large, very favourable loans to pay for national level infrastructure that will boost the economy, create jobs and improve the lives of the entire population. These investments are also essential to position Lebanon as the hub for the eventual reconstruction of Syria, when the Syrian refugees return.

We are pleased that Lebanon has put forward credible and ambitious proposals that will be considered in June, with $1billion available for the whole MENA region. Implementation will require bold leadership from the Lebanese Government, including parliamentary approval, and a rigorous focus on delivery. The more Lebanon can deliver, the more likely further funds will be made available. We stand ready to support Lebanon in these efforts.
The UK's contribution of USD165m will support vital programmes such as MEHE's Reaching All Children with Education 2 (USD58m), municipal investment, essential infrastructure and job creation (USD49m), and humanitarian relief for the most vulnerable refugees and poor Lebanese (USD58m).
The Ambassador of Germany and Deputy Head of Mission from the embassy of Kuwait and Norway read individual statements about their country's contribution to Lebanon.
Published 9 May 2016