Press release
London communities celebrate strength and unity at event hosted by the Deputy Prime Minister
The Deputy Prime Minister Nick Clegg hosted a community event to show solidarity after the incident in Woolwich on 22 May.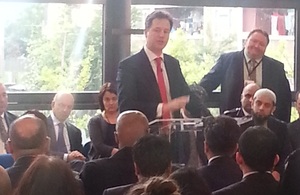 The Deputy Prime Minister, Nick Clegg, today hosted a community event in London where political and religious leaders joined together to show solidarity between people of all faiths and none in the wake of the murder of Drummer Lee Rigby in Woolwich. Timed ahead of the bank holiday weekend and Friday prayers, the event showed communities celebrating their strength and unity in mutual support.
The speakers at the Hugh Cubitt Peabody Centre in Islington were the Deputy Prime Minister, Shadow Justice Secretary Sadiq Khan, Conservative whip Lord Tariq Ahmad, former Army captain Afzal Amin, imam Shaykh Shams ad-Duha Muhammad of Ebrahim College and the co-chairs of Faith Forum for London, Canon Guy Wilkinson and Leonie Lewis.
Also in attendance were Colonel Hugh Bodington, Chief of Staff of the Army Headquarters at London District, and Commander Mak Chishty of the Metropolitan Police, who has been the force's community liaison for the events in Woolwich.
Representatives of London's political leaders included Damian Johnson, Chair of the London Assembly, Andrew Boff, leader of the Assembly's Conservative group, Jenny Jones, leader of the Green Party Group and Stephen Knight, deputy leader of the Liberal Democrat Group. The local MP Emily Thornberry also took part, along with Deputy Leader of the House of Commons, Tom Brake.
Published 24 May 2013