News story
London 2012 Olympics: Deputy Prime Minister video message
The Deputy Prime Minister has recorded a video message to mark the start of the London 2012 Olympics.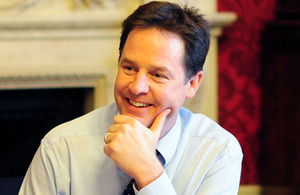 London 2012 Olympics - message from Nick Clegg
In it, he hails London 2012 as being "a time when people of all ages, all backgrounds, from all parts of the country can connect with a great moment in our history".
Read the full transcript below. 
This summer Britain gets to shine as the world looks to London 2012.
This is the third time we've ever held the Olympics… And, every time, we've left a British imprint on the Games:
In 1908, what we now know as the official distance for a marathon was set at 26 miles and 385 yards - the distance from Windsor Castle to the stadium's Royal Box.
In 1948 the first organised sports competition for disabled people was organised at Stoke Mandeville - the forerunner for the Paralympics.
And in 2012, we want to make history again, staging the first Games that have been organised, from start to finish, around legacy.
London 2012 will be everyone's games. It's a time when people of all ages, all backgrounds, from all parts of the country can connect with a great moment in our history.
Thousands of community events have taken place - from firemen helping people get fit in Merseyside, to sport helping unemployed people regain confidence and skills in Suffolk.
25,000 schools have registered for the Get Set programme, getting children involved in everything from sports science to the school games.
14 million people have already been to a Cultural Olympiad event - and 10 million more will be able to see concerts, exhibitions, artworks and more as part of the London 2012 Festival, the biggest cultural festival in our history.
These numbers matter, because they show that this really is Britain's Olympic year. Not just for a few weeks in July. Not just for London but for everyone.
And perhaps most important of all, the Olympics will leave a real legacy: not just shiny new venues - fantastic as they are.
But real change in East London - a part of the city transformed.
Real benefits for businesses - with the chance to present the UK as a great place for entrepreneurs.
And a real shift in our relationship with sport.
Whether it's the millions of kids taking part in competitive sport in their schools.
Thousands of volunteers recruited and trained to help run their local sports clubs.
Or the hundreds of facilities upgraded to give people the places to play sport.
We're going to take the inspiration that Jess Ennis, Dai Greene and Tom Daley give us and to use it to make Britain a more active, sporty nation.
The next few weeks will leave great memories - with British athletes at the forefront.
But they will also leave behind real, lasting benefits.
So good luck to Team GB - do us proud!
But just as importantly - wherever you are, whatever you do, enjoy this Olympic year, make it a special one, and let's show Britain at its very best this summer!
Published 27 July 2012